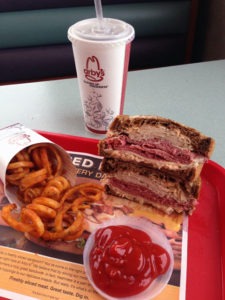 I gave up fast food for Lent this year. Then, about a week and a half into it I got an email from Arby's letting me know that they were sending me a gift card so I could try one of their Reuben sandwiches. Don't get me wrong, I wanted the sandwich, but I think that what I wanted even more was an excuse to eat fast food. After all, now that it was "work" related I HAD to eat at Arby's!
A regular Reuben at Arby's will run you $4.99, but for an extra dollar you can double the meat on your sandwich. Another option they offer — and the one that I took advantage of — is the half corned beef and half turkey Double-Stack Reuben. Seeing as how I'd already gone a full two weeks without fast food I figured I'd go all out.
Overall, the Reuben sandwich from Arby's is pretty good. Here in Milwaukee I'd probably never choose it over a place like Jake's Deli or Benji's, but if I'm on my lunch break and don't have tons of time I could definitely see myself stopping for another one at Arby's.
If you're looking to try an Arby's Reuben for yourself they have a buy one, get one free coupon up on their website right now that lasts through Monday, so for a total of $4.99 you can get two sandwiches, which is a pretty great deal. Oh, and Arby's? The next time you send me a gift card can you throw a little extra money on it to cover my curly fries and soda? I had to shell out for those on my own.