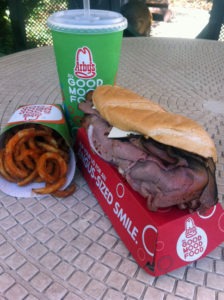 Even though I had a homeless guy review their chicken salad sandwich I'm apparently still in the good graces of Arby's, as I received an email from them last week offering to send me an Arby's gift card if I wanted to try their new Angus Cool Deli Sandwich. I've never been one to turn down free food so I happily obliged.
The Angus Cool Deli sandwich (or whole grain wrap if you're going the healthy route) consists of Angus beef (served cool as the name implies), lettuce, tomato, onions, Swiss cheese, banana peppers and pickles, as well as a vinaigrette dressing and some mayonnaise. I'm not a very big fan of pickles or banana peppers however, so I ordered my sandwich without them.
Taste wise I was pretty impressed with the sandwich. There's only so much you can do with roast beef, so I give Arby's a lot of credit for continually coming up with new sandwich ideas. Size wise I was WAY more impressed with the Angus Cool Deli Sandwich than I was with their Angus Three Cheese & Bacon Sub that they released earlier this year. Whereas that sandwich seemed extremely undersized for its $4.99 price tag the Angus Cool Deli Sandwich (which also costs $4.99) seemed huge in comparison.
In addition to hooking me up with free food, Arby's was also nice enough so give me a $20 gift card to give away to one of you. Want to win? Just leave a comment on this post and I'll pick a winner at random a week from today. Have you tried the Angus Cool Deli Sandwich yet? If so, what did you think? The comment doesn't even have to be about Arby's. For example, you could tell me what size shoe you wear or which current popular song you wish you never had to hear again. I personally wear size ten and a half shoes and I can't stand the Jennifer Lopez song "On The Floor." I'm not sure what it is, but the way she pronounces "Africa" in that song really annoys me.