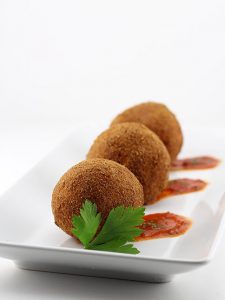 Yesterday when I posted my recipe for Butternut Squash Risotto With Roasted Garlic & Cracked Black Pepper Pork Tenderloin — made with delicious pork tenderloin from Smithfield — I promised that I'd be back with a follow up that involved deep frying just in case you had any leftovers.
Arancini is a Sicilian dish consisting of stuffed rice balls — often filled with meat, sauce, mozzarella cheese and peas — that are coated in bread crumbs and deep fried. Everything about that aside from the peas is pretty great in my book, so I decided to ditch those, cut 1/2″ cubes from the leftover pork tenderloin I had, wrap them in mozzarella and pack my leftover risotto around them.
After that all it took was a quick flour coating, a dip in an egg wash, some bread crumbs and a two minute dunk in 375° deep fryer oil to create this delicious dish.
As I mentioned yesterday, one of the great things about the Marinated Fresh Pork from Smithfield is that they basically do all the prep work for you and all you have to do is roast, grill or sauté them, but since I already took care of that the day prior it almost took no time at all to make these deep fried rice balls.
For more easy recipe ideas head over to Smithfield.com/RFRF or facebook.com/CookingWithSmithfield. Or, if deep fried rice balls aren't quite your thing could could also use your leftover pork to make this Smithfield Peppery Country Pork Stew, which is a pretty perfect meal for this chilly holiday season.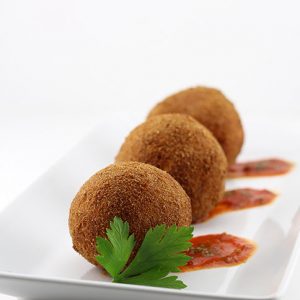 Arancini – Deep Fried Rice Balls Recipe
Nick @ DudeFoods.com
This recipe combines pork tenderloin, rice and cheese into delicious little deep fried balls that will leave you wanting more!
Ingredients
leftover pork tenderloin

2

quarts

oil

for frying

1/2

slice

mozzarella cheese

for each rice ball

1/2

cup

milk

6

eggs

2

cups

flour

3

cups

breadcrumbs
Instructions
Heat oil in deep fryer or heavy skillet to 375°F.

Slice leftover pork tenderloin into 1/2″ cubes and wrap each one in mozzarella cheese.

Separate your leftover risotto into 2″ balls and one by one press them into your palm, place a mozzarella-wrapped pork tenderloin cube into the middle, shape the rice around the pork tenderloin and roll into a ball.

Combine milk and eggs in a bowl and whisk until smooth.

Coat each rice ball in flour, dip in egg wash and cover in breadcrumbs. Repeat this process again if necessary.

Fry rice balls for 2 minutes or until the breading is golden brown.

Drain on paper towels and serve with marinara or your preferred dipping sauce.