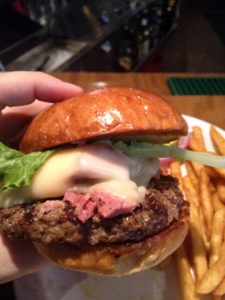 Can't decide between a Reuben sandwich and a hamburger? Now you don't have to! Just head on over to A.J. O'Brady's and give their signature burger a try! The half pound Angus beef patty comes topped with their homemade Reuben sauce, corned beef, Swiss cheese and sauerkraut.
I only work about ten minutes away from A.J. O'Brady's, but in the six years I've been at my current job I've never stopped in until this past week when I was looking for someplace new to try for lunch. I'm certainly glad I decided to give them a shot though because I absolutely loved my meal.
A lot of places can go a little overboard with sauerkraut on Reuben sandwiches so it gets to the point where it's almost overwhelming and becomes all you can taste, but the amount of sauerkraut (and every other topping) on this burger was perfectly proportioned.
I'm sure that A.J. O'Brady's isn't the first Irish themed pub and grill to cover a hamburger patty with traditional Reuben sandwich toppings, but it's the first time I've ever seen it been done. Plus, with St. Patrick's Day coming up this weekend I can't think of a better time to have discovered this delicious burger!