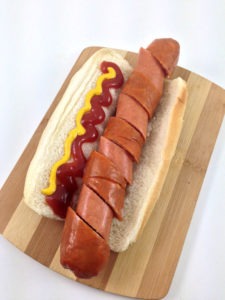 What you see pictured here may look like a basic hot dog with some slice marks across it, but what you're actually looking at is a hot dog and a cheese-stuffed chicken sausage, both spiral cut and then woven together as one.
The idea originally came to me after I saw a video on Chow.com about the benefits of spiral cutting your hot dogs prior to grilling them. Ever since then I've been meaning to give it a try, or at least put my own little spin on the idea.
Well, a couple weeks ago Ball Park sent me a box containing a bunch of their Angus Beef Franks, so I figured now was as good a time as any to give it a shot! Since two Angus Beef Franks woven together would be pretty boring though I decided to combine a hot dog with a Johnsonville Chicken Sausage since I also happened to have a package of those on hand.
To make the Siamese Twin Dog I just followed the directions from Chow.com but instead of stopping after the spiral cut I took the hot dog and the sausage and just wove them together afterwards. It took a couple tries to get it right since the cuts on the hot dog and the sausage pretty much need to be exactly alike for them to weave together perfectly, and I ended up cutting off the ends of the hot dog just to make the finished product look a little better, but in the end I think it turned out pretty good. Plus, both of them were already precooked so it worked out perfectly!
The great thing about this idea is of the possibilities are pretty much endless as to what types of sausages you can combine. I've already woven together hot dogs with turkey dogs and they were absolutely delicious, but imagine a brat and Polish sausage combined or a Red Hot and regular hot dog hybrid. The possibilities are endless!