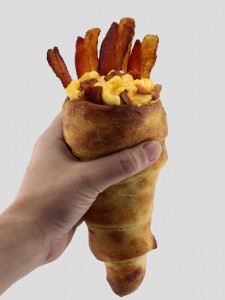 A while back I saw a story on Foodbeast about how Disney was selling Macaroni and Cheese Bread Cones at Disney's Hollywood Studios in Florida and at both Car Land and Cozy Cone Motel in California.
Once I was done reading the story I couldn't stop staring at the photo and thinking about how much I wish I lived closer to either of the two coasts so I could head to Disney and enjoy one of the delicious looking cones, but alas, I live in Wisconsin, which is 1,256 miles from Disney World in Florida and over 2,000 miles from Disneyland in California. With no plans to be anywhere near Disney in the foreseeable future I decided to do the next best thing — make my own Mac and Cheese Bread Cone!
The best part about making my own bread cone was that I already have a cone form that came with a waffle cone maker I got a while back. In the past I've used it to make an Apple Pie Cone, a Chicken Pot Pie Cone and most recently, a Thanksgiving Leftovers Cone.
To create the cone I just took some bread dough that I got from the grocery store, wrapped it around my cone form and cooked it according to the directions on the can. For the last couple minutes in the oven I also brushed some melted butter on the cone to give it that nice golden brown color and to add even more flavor. When the cone was finished I filled it with macaroni and cheese and topped it with bacon just like Disney does, because why would you not want bacon with your mac and cheese?
In the words of Tony the Tiger this Mac and Cheese Bread Cone was grrreat! I also have no idea why I just quoted Tony the Tiger since this post literally has nothing to do at all with Frosted Flakes but either way, this thing was seriously amazing.
How has Disney not sold a million of these yet? They need to be marketing the hell out of these Mac and Cheese Bread Cones. I literally just had to take a break from writing this blog post to go make another one of them. I'm hooked. I'm like a drug addict, but for Mac and Cheese Bread Cones instead of heroin or cocaine. I'm pretty sure I'll actually start going through withdrawals if I don't have another one within the next day or so. Good thing I don't need to head all the way to Disney to eat them!