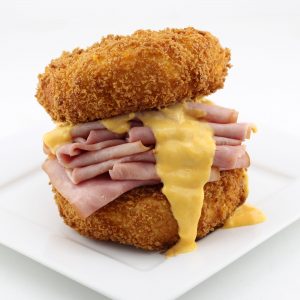 That's it, I've decided that every sandwich I eat from now on will have deep fried macaroni and cheese buns! I'm pretty sure this will cause me to gain approximately 125 pounds within the next six months, but you know what? It'll totally be worth it!
I know… macaroni and cheese buns… super original huh? Hey, at least I didn't bread them in Flamin' Hot Cheetos again! Actually, I'll be honest, I totally wanted to bread them in Flamin' Hot Cheetos, but didn't feel like running to the grocery store to buy any.
In retrospect though, maybe I should have run — like literally run — to the grocery store, not because this sandwich wasn't amazing — because it definitely was — but because if you're going to eat stuff like this on a random Wednesday for lunch then you should probably be getting in a little bit of exercise on the side.
On the plus side, I did go to the gym for the first time in more than five years recently. On top of that I managed to last an entire 30 minutes on the elliptical machine! I still ended up getting made fun of however for referring to it as the the "weird half ski / half bike thing" when I couldn't remember that elliptical was the official name. Either way, I totally burned 327 calories, which according to my calculations is 1/8 of the calories in this sandwich!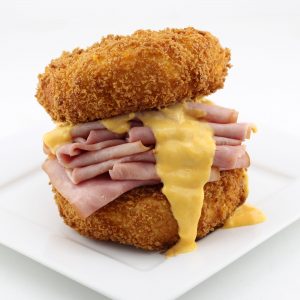 The Hot Ham & Cheese With a Deep Fried Macaroni and Cheese Bun Recipe
Nick @ DudeFoods.com
How can you make hot ham and cheese sandwiches even better? By serving them with deep fried macaroni and cheese buns!
Ingredients
2

quarts

oil

for frying

8

ounces

pasta

2

tablespoons

butter

2

cups plus 1 1/2 tablespoons

flour

2 1/2

cups

milk

4

cups (16 ounces)

Cheddar cheese

shredded

4

eggs

4

cups

panko breadcrumbs

8

ounces

ham
Instructions
Cook pasta according to the directions on the package.

In a saucepan, melt butter over medium heat and stir in 1 1/2 tablespoons flour. Add 1 1/2 cups milk and reduce heat to low. Stir in 3 cups shredded Cheddar cheese slowly until melted and pour over cooked pasta.

Transfer macaroni and cheese to mini springform pans and freeze for 1 hour or until macaroni and cheese discs can be removed from the springform pans without falling apart.

Heat oil in deep fryer or heavy skillet to 375°F.

Set up a dredging station with three bowls — 2 cups flour in the first one, 4 beaten eggs and 1/3 cup milk in the second one and panko breadcrumbs in the third one.

Coat each macaroni and cheese disc in flour, submerge in egg wash and cover in panko breadcrumbs. Repeat this step a second time if necessary.

Fry macaroni and cheese discs for 5 minutes or until golden brown and cooked through and then cool on paper towels.

For the cheese sauce for the sandwiches add 2/3 cup milk to a pan over medium heat and slowly stir in 1 cup shredded Cheddar cheese until melted.

Assemble the sandwiches by topping a deep fried macaroni and cheese bun with ham, cheese sauce and finally another bun on top.