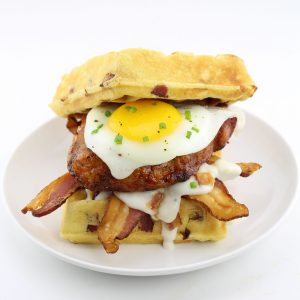 For the past three years now I've been working with Smithfield to create recipes using their various pork products.
In case you've missed any of my previous posts you can click here to check out all the different dishes I've come up with thus far. This month they shipped me a package of their Boneless Center Cut Pork Chops to try.
Now, I know that pork chops aren't traditionally considered a breakfast food, but when I noticed that a few of the pork chops they sent me were hickory smoked brown sugar flavored I decided that if there was ever a time for me to eat pork chops for breakfast this was it!
Originally I planned to just serve the pork chops between two bacon maple waffles, with a few additional slices of bacon thrown on the sandwiches for good measure, but seeing as how Smithfield's Marinated Fresh Pork comes with all the prep work already done for you that would have been way too easy so I decided to add some bacon country gravy as well.
Basically what I'm saying is that if you don't like bacon this probably isn't the breakfast sandwich for you. If you don't like bacon though I also feel like you would have stopped reading DudeFoods a long time ago. Oh, and because no breakfast sandwich is complete without eggs I also threw a fried egg on top of it.
Well, as it turns out, Smithfield Hickory Smoked Brown Sugar Boneless Center Cut Pork
Chops are an absolute perfect fit for breakfast sandwiches! Plus again, since all the prep work is done for you and all you really have to do is throw them on the grill I was able to have these on the table — pork chops, bacon, waffles, bacon country gravy, eggs and all — in about 30 minutes!
Have you got a great tip on how you get your dinner ready in 30 minutes or less using Smithfield Marinated Fresh Pork? Then you're going to want to enter their Real Flavor, Real Fast Contest for a chance to win a trip to Wine Country — including roundtrip airfare for two to San Francisco, two nigh premium hotel accommodation in Napa Valley, two VIP passes for tours and tastings at two premium Napa wineries, lunch for two on the Napa Valley wine train, a $500 dining credit and a $300 transportation credit — or one of hundreds of other great prizes! Even if you don't have a tip or trick of your own you can still vote for your favorite for a chance to win a $25 Visa gift card!
Or, if you're not in the mood for pork chops why not pick up one of Smithfield's pork tenderloins and make this Garlic & Herb Tenderloin with Apple Ginger Chutney? Plus, you can always head over to the recipes section of Smithfield.com where you're pretty much guaranteed to find something you like!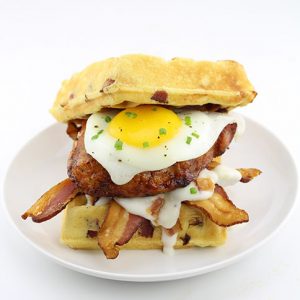 Hickory Smoked Brown Sugar Boneless Pork Chop Waffle Breakfast Sandwich Recipe
Nick @ DudeFoods.com
Bacon is the star of this breakfast sandwich that combines maple bacon waffles, bacon country gravy, a fried egg, a pork chop and more!
Ingredients
3

Smithfield Hickory Smoked Brown Sugar Boneless Center Cut Pork Chops

1

package

Smithfield bacon

8

eggs

4 1/2

cups

milk

1/2

cup

water

3 1/4

cups

flour

2

tsp

vanilla extract

2

tablespoons

sugar

1/4

cup

maple syrup

1/4

cup

vegetable oil

1

teaspoon

salt

1

teaspoon

ground black pepper
Instructions
Cook Smithfield Hickory Smoked Brown Sugar Boneless Center Cut Pork Chops and Smithfield bacon according to the directions on the packages and leave the bacon grease in the pan to use for the gravy.

For the waffles, combine 2 eggs, 1/2 cup milk, 1/2 cup water, 2 1/2 cups flour, 2 teaspoons vanilla extract, 2 tablespoons sugar, 4 diced slices of bacon, 1/4 cup maple syrup and fold in 1/4 cup vegetable oil and cook in waffle iron for about 5 minutes or until golden brown.

For the gravy heat the pan with remaining bacon grease on low and whisk in 3/4 cup flour, 1 teaspoon salt and 1 teaspoon ground black pepper.

Slowly stir in 4 cups milk and continue cooking and whisking until thick. If you want a thinner gravy add more milk. Alternatively, if you'd like a thicker gravy add more flour.

Dice two slices of bacon, add to the gravy and remove the pan from heat.

Fry eggs in a pan to your desired level of doneness.

Assemble sandwiches by topping a waffle with bacon slices, gravy, a Smithfield Hickory Smoked Brown Sugar Boneless Center Cut Pork Chop, a fried egg and finally one more waffle on top.