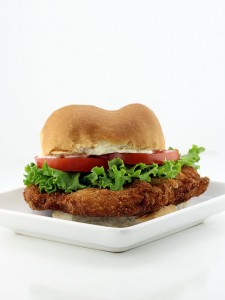 If you've been reading DudeFoods for a while then you'll probably know for a good year and a half now I've been working with Smithfield to come up with various recipes using their Marinated Fresh Pork products.
In case you missed it though, you can click here to check out all the different dishes I've come up with thus far.
This month they asked me to use one of their Marinated Fresh Pork Sirloins as part of my recipe. The great thing about these is that they can be grilled, roasted or sautéed. Well, here's another great way to make them — sliced, breaded and fried!
The inspiration for this sandwich came from the breaded pork tenderloin sandwiches that are popular in Iowa and Indiana. I figured that if I flat out referred to it as an Iowa Breaded Pork Sandwich though I'd get comments saying things like "But an Iowa Breaded Pork Sandwich has pickles on it!" whereas I can't stand pickles and didn't want any on mine at all or "Why did you use breadcrumbs? Authentic Iowa Breaded Pork Sandwiches use crushed up saltine crackers!"
The one similarity I did keep however is the ridiculously large breaded pork patty that hung generously over the sides of the bun. Then again though, I've also seen Iowa Breaded Pork Sandwiches that are way larger in diameter than this one….
Also, since these pork sirloins already come seasoned you really don't even need to mix the spices in with your flour like I did — I just didn't want to make the recipe too easy on you. Seriously though, if you don't have garlic powder or onion powder don't worry about it — your Breaded Pork Sirloin Sandwiches will still taste amazing!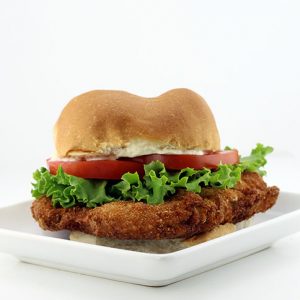 The Breaded Pork Sirloin Sandwich Recipe
Nick @ DudeFoods.com
Looking for a good sandwich to try? Check out this take on an Iowa Breaded Pork Sandwich!
Ingredients
1

Smithfield Marinated Fresh Pork Sirloin

1

cup

flour

1/2

teaspoon

ground black pepper

1/2

teaspoon

onion powder

1/2

teaspoon

garlic powder

3

eggs

1/2

cup

buttermilk

3

cups

breadcrumbs
Instructions
Slice Smithfield Marinated Fresh Pork Sirloin into four equal sized portions and butterfly each piece by slicing almost completely through it and then "unfolding" it to twice its original size.

Place plastic wrap over each piece of pork sirloin and pound it with a meat tenderizer until it's 1/4″ thick.

Add 1″ of oil to a cast iron skillet and heat over medium high heat until the temperature is approximately 365°.

Set up a dredging station with three bowls — flour, ground black pepper, onion powder and garlic powder in the first one, beaten eggs and buttermilk in the second one and breadcrumbs in the third one.

Coat your pork sirloin in the flour and spice mix, submerge in egg wash and cover in breadcrumbs.

Place in oil and fry for 3 minutes per side or until golden brown.

Serve on hamburger buns with your choice of condiments. I opted for lettuce, tomato and a generous helping of mayo.