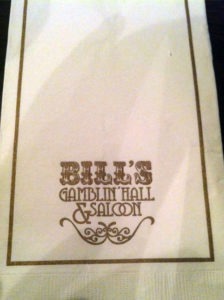 For as many four and five star restaurants as you can find in Las Vegas you can pretty much find an equal number of places to eat for extremely cheap. One of these places is the Victorian Cafe located inside Bill's Gamblin' Hall & Saloon.
Their regular prices are pretty much in line with what you'd expect to pay at almost any cafe, but the deals come into play between midnight and 8am where for the low price of $5.99 you can enjoy a steak and eggs special that also includes hash browns and toast.
The funny thing about the $5.99 price is that everything else on the menu is way more expensive than the steak and eggs. Want some chicken strips? Those will run you $9.99. How about an omelet? That'll be $12.99. In fact, two eggs on their own served with toast and hash browns will cost you $8.99 at the Victorian Cafe, but if you add steak into the mix you save three bucks. Maybe it's just me, but I found that hilarious.
As far as the taste goes, you're pretty much getting what you pay for, but then again what can you really expect for only $5.99? The eggs and hash browns were good, but the steak was pretty chewy. It was so chewy in fact that my friend Curt compared the consistency of his to a gummy bear and couldn't even finish it. This worked out in my favor however because he actually paid me $5 to eat the rest of his, so in the end I got almost double the steak and my meal only ended up costing me 99 cents. What a deal!