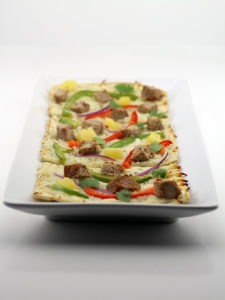 All year long Smithfield has been shipping me boxes packed with their various Marinated Fresh Pork products and all year long I've been using them to create various recipes.
I started off in March by making Teriyaki Pork Fries With Sriracha Mayo and followed those up with a Pork Sirloin Benedict in April, Teriyaki Pork Tenderloin Sliders With Pineapple Coleslaw in June and Garlic & Herb Pork Loin Filet Shish Kebabs last month. Most recently I once again turned to their Teriyaki Pork Tenderloin, which I this time used to make some pretty delicious flatbreads.
As we inch closer and closer to the end of the year and the sun sets earlier and earlier each night the last thing you want to do when you get home from work is to spend a ton of time on dinner right? That's what so great about these products, not only do they come preseasoned, but they're ready in about 20 minutes. In fact, I'd venture to say that they're the perfect base for any weeknight meal!
Alright, back to the flatbreads! I started off by throwing the Teriyaki Pork Tenderloin in my oven for 20 minutes at 425º and then slicing up some bell peppers and onions as it was roasting. After removing the tenderloin from the oven I cut it into 1/4 inch cubes and topped some flatbreads with mozzarella cheese, the pork, the onions and peppers and some pineapple chunks before putting it back in the oven for another ten minutes.
So, there you go, delicious flatbreads in 30 minutes! If you're in even more of a time crunch the pork can also be cubed and sautéed so that it's ready in about ten minutes as well. Or you could save even more time by skipping the flatbreads and vegetables completely and just eating the pork on its own. Alright, I'm half joking about that last part, but then again with how good Smithfield's pork products are I could easily see myself doing just that.