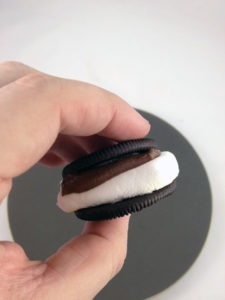 Don't you hate it when you come up with a great idea only to realize that its already been done by someone else? That's what happened to me with the s'moreo.
You see, I opened my kitchen cabinet one day recently to notice a half-finished package of Oreo cookies sitting next to a couple Hershey's chocolate bars that I had left over from when I made my s'mores quesadilla. Immediately a thought popped into my head. Why not make some s'mores using Oreo cookies instead of graham crackers?
After a quick Google search I realized that quite a few people had already come up with the exact same idea, right down to the clever "s'moreo" name. I originally planned on scrapping the idea completely, but then I thought again about how good a s'moreo sounded and decided to make a few anyway. Boy am I glad I did!
Long story short, Oreo cookies are the perfect substitute for graham crackers when it comes to making s'mores. First off, they seem to soften up a little more than graham crackers when you heat them, so whereas a graham cracker will often break when you bite into it (leaving you with crumbs all over yourself and/or melted marshmallow and chocolate stuck to your fingers) this isn't the case with s'moreos.
Second, they're smaller, which provides a perfect cookie to marshmallow to chocolate ratio. Will these two factors cause me to permanently switch from traditional s'mores to s'moreos? It's hard to say, but it's definitely nice to know that there's an alternative out there!