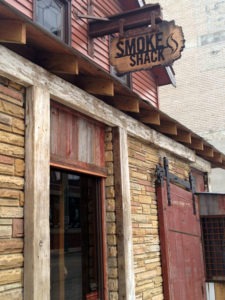 After waiting WAY too long to visit AJ Bombers, I promised myself that I wouldn't make the same mistake with Smoke Shack, which is owner Joe Sorge's newest restaurant endeavor. As luck would have it I didn't have to wait long at all before Joe invited me in to sample the menu.
Since I wanted to get a little (or actually not so little in this case) taste of everything I ordered the four meat combo, which consists of homemade sausage, pulled pork, pulled chicken and sliced brisket. I chose the mac & cheese as my side and the combo also included a pretty decent sized piece of cornbread.
I normally don't even like cornbread, but I could easily sit there all day long eating the stuff from Smoke Shack. I actually have a friend who works for a similar type of restaurant and I've heard him mention no less than five times how much he loves the Smoke Shack's cornbread. If even your rivals are raving about you you're clearly doing something right….
The problem I have with most barbeque, and I'll admit that my barbeque eating experience is pretty limited, is that I feel like I always end up with fatty chunks of meat that are drenched in sauce. What was perfect about Smoke Shack for me is that all the meat comes unsauced and then you yourself (using one of their five housemade sauces) can decide exactly which and just how much (or how little) sauce you want.
Barbeque is sort of like sushi to me in the sense that when it's served to you with no sauce on it is when you can really tell whether or not the restaurant serving it actually uses quality ingredients. It's easy to cover up subpar meat with a ton of sauce, but when that same meat tastes just as amazing sans the sauce is when you know it's good. Again, I'm FAR from an expert when it comes to barbeque, but I can tell you what's good and what isn't, and Smoke Shack is good.
I'd actually be really curious to see what the restaurant could do brunch-wise if they decided to start opening up a little earlier on Saturdays and Sundays. I can definitely see myself sitting out on their patio enjoying a couple drinks and a late southern-inspired breakfast. In the meantime though I'll definitely be back to try Smoke Shack's Bacon Bourbon Brownie and maybe some of their Whiskey Ice Cream that I was way too full to try at the end of my first visit.