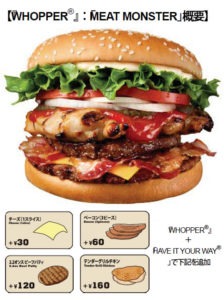 Back in January I wrote a blog post about how I longed for a McDonald's burger. It wasn't just any burger that I lusted after however, it was the Mega Tamago, a burger that McDonald's only made available in Japan. Well, there's a new burger on my mind now thanks to Burger King and their Meat Monster Whopper, and once again it's only available in Japan. The only solution? Recreate it like I did with the Mega Tamago.
This recreation is actually pretty easy since the Meat Monster Whopper basically just consists of two Whopper patties, a TenderGrill Chicken Sandwich and some bacon. Since neither the Whopper nor the TenderGrill include bacon I just ordered a Single Stacker and used the bacon from that on my burger.
All in all I ended up spending about $11.50 to recreate the Meat Monster Whopper (not including the onion rings and soda I purchased along with it). Although mine wasn't quite as visually appealing as the original picture it still tasted pretty good, so I'd consider it money well spent. Now all Burger King has to do is start selling this burger in the U.S. so I can just walk in and buy one instead of buying everything individually and assembling my own!