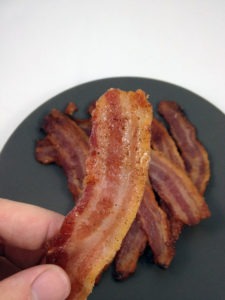 It seems like every fall everything suddenly becomes pumpkin spice flavored. Starbucks starts selling their wildly popular Pumpkin Spice Latte, bakeries sell pumpkin spice muffins and Planters even just sent me some pumpkin spice flavored almonds in the mail. You know what I never see in fall though? Pumpkin spice bacon! Obviously this problem needed to be remedied, so armed with a pumpkin spice recipe I found online plus a couple additions I made to help turn it into more of a glaze that could be brushed onto some strips of bacon I set out to make my own!
For the pumpkin spice glaze I combined the following ingredients:
1 cup powdered sugar
2 tablespoons milk
1 teaspoon cinnamon
1/2 teaspoon ginger
1/4 teaspoon allspice
1/4 teaspoon nutmeg
After mixing everything up I covered a baking sheet with a piece of aluminum foil, laid out a half pound of bacon strips and then covered each one of them in my pumpkin spice glaze using a pastry brush. I then put my bacon in the oven at 400° for seven minutes before taking it out, flipping it and brushing the other side in pumpkin spice glaze as well. After that I put it back in the oven for an additional seven minutes. Based on the way my kitchen smelled while I was cooking the bacon I could tell how delicious it was going to taste even before I pulled it out of the oven. It was like some form of sick torture or something, but at the same time I loved every second of it! Ok… this is getting weird….
Anyway, the bacon turned out almost like a candied bacon, but trust me, it tasted WAY better than regular ol' candied bacon. My problem with candied bacon is that most of the time it just turns out chewy. My pumpkin spice bacon on the other hand was a little bit chewy from the sugar and spices, yet still managed to maintain that crisp bacon crunch that I love. All in all I'd say that my pumpkin spice bacon was quite a hit!