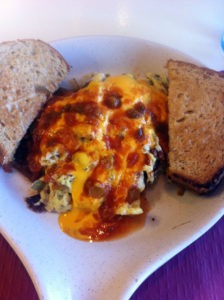 If you're from Milwaukee I'm sure you're familiar with George Webb. For those of you not in the area though, George Webb is basically a chain of diners in Wisconsin founded in 1948 where you can stop in 24 hours a day for a cheap meal. Until recently there were close to 36 George Webb Restaurants in Wisconsin, but six of them recently opted not to renew their franchise agreements and now go by the name Griddlers Cafe.
I stopped in for lunch recently at the Griddlers Cafe in Menomonee Falls to see what exactly has changed. The short answer to that is not much, and that isn't a bad thing at all. The interior is remarkably similar (minus the George Webb signage obviously), the prices remain about the same, they still serve breakfast 24 hours a day and aside from a few new additions the menu is remarkably similar. Basically if you were previously a fan of George Webb I'm sure that you'll enjoy Griddlers Cafe as well.
One of the new items on the menu (and the one that I tried on my recent visit) was the Nacho Skillet Scramble. This dish consists of two scrambled eggs topped with bacon, green peppers and onions and is smothered with nacho cheese and salsa. I enjoyed the skillet, but honestly with the amount of nacho cheese that it was topped with I can imagine that it would probably be way too heavy of a breakfast for most people. I definitely think it would be a lot better if instead of nacho cheese they melted shredded Mexican cheese over it and then maybe included a spoonful of sour cream along with the salsa. Maybe just using a little less nacho cheese would do the trick, but mine had so much on it that it became almost all I could taste.
Another new menu addition that I hope to try in the near future is their Jalapeno Hangover Burger, which is made up of two beef patties topped with two strips of bacon, an egg, cheese and jalapenos. Only time will tell if Griddlers Cafe ends up being as loved around the area as George Webb has been for over six decades now,  but unless they do something completely drastic to alienate their previous customers I can't imagine that this change will stop anybody from eating there.