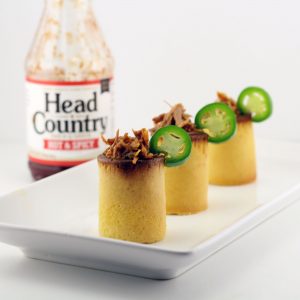 The idea for these pulled pork filled corn bread shot glasses came to me a few months back when I made my Pancake Shot Glasses.
Well, as luck would have it I was recently contacted by Head Country Bar-B-Q asking if I'd like to come up with a recipe using their sauces and seasonings, so this seemed like the perfect opportunity to finally make them!
Honestly, I wasn't familiar with Oklahoma-based Head Country at all prior to them contacting me, but after talking to them I learned that they're actually the 9th largest BBQ sauce company in the country.
After tasting their sauces and seasonings I'm guessing that they're going to be moving up that list in no time because this stuff is good!
Normally when I'm making pulled pork in the slow cooker — even if I'm adding BBQ sauce — I also throw in some garlic powder, chili powder, brown sugar and a chopped onion.
This time however I opted to simply rub down the pork shoulder with Head Country's Sweet & Spicy seasoning and top it with a cup of their sauce. And. It. Tasted. Absolutely. Amazing.
In keeping with the whole spicy theme I used their Hot & Spicy BBQ sauce, but I did get a chance to try the two other sauces they sent me as well — Hickory Smoke and Original — and they were both great, so if spicy isn't your thing then by all means, try the recipe with one of the other six flavors they offer. The same goes for the seasoning.
If you want to keep this recipe super simple you could always used boxed cornbread mix as well, but this recipe is already pretty simple on its own.
I also used a 3 pound pork shoulder when I made these — mainly because it was the smallest boneless pork shoulder I could find — which left me with plenty of pulled pork left over after I filled all my cornbread shot glasses, so if you didn't want any left you'd probably be safe using one half that size.
Then again though, having a bunch of extra delicious pulled pork is a pretty great problem to have….
If you want to try Head Country Bar-B-Q sauces, seasonings or marinades for yourself you can click here to find the closest store to you that sells their products.
Or, if you'd like to try them absolutely free they're also giving one lucky DudeFoods reader a gift basket full of sauces, seasonings and Head Country Bar-B-Q swag.
All you have to do to enter is head on over to this post on the DudeFoods Facebook page and leave a comment. If you "like" the Facebook post and comment on it I'll give you one extra chance to win, and if you comment, "like" and share the post on Facebook you'll get three entries. I'll select one random winner at random a week from today on Friday, July 7th! Good luck!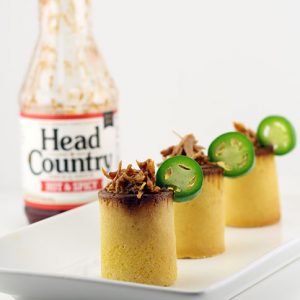 Pulled Pork and Cornbread Shooters Recipe
Nick @ DudeFoods.com
Looking for a unique way to serve pulled pork? Just follow this recipe and make these edible cornbread shooters!
Ingredients
1

boneless pork shoulder

approximately 3 pounds

1

cup

Head Country Bar-B-Q sauce

1

jar

Head Country Bar-B-Q seasoning

2

cups

cornmeal

1 1/2

cups

flour

2/3

cup

sugar

3

teaspoons

baking powder

4

eggs

2

cups

milk

2/3

cup

vegetable oil

1/2

teaspoon

salt

1

jalapeño
Instructions
Season the entire pork shoulder with your choice of Head Country seasoning and place into slow cooker.

Top with 1 cup Head Country sauce of your choice and cook on low for 8 hours or high for 4 hours or until pork shoulder can easily be shredded with a fork.

Shred pork shoulder with a fork and stir to coat with sauce.

Preheat oven to 400°.

In a bowl combine cornmeal, flour, sugar, salt and baking powder. Stir in egg, milk and vegetable oil.

Pour cornbread mixture into shot glass mold and wipe off any excess batter.

Bake for 20 minutes or until a toothpick inserted into the cornbread shot glasses comes out clean.

Remove shot glass mold from the oven, let cool for a few minutes and with a sharp knife slice off any cornbread remnants that baked over the top of the mold so your shot glasses end up with a flat bottom.

Fill each cornbread shot glass with pulled pork and garnish with a slice of jalapeño.