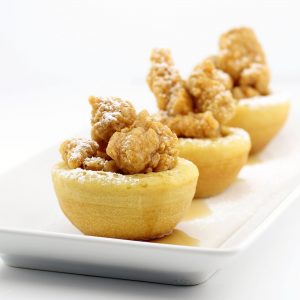 Ever since I came across a Bake-a-Bowl Pan
when my wife dragged me to Hobby Lobby a couple months back I've been putting it to pretty great use.
First it was scrambled eggs in pancake bowls, then it was homemade macaroni and cheese in corn dog bowls, and now it's popcorn chicken in waffle bowls!
I absolutely love chicken and waffles, but the thing that really bothers me about most places that serve them is that they usually take the easy way out and just plop a waffle down on a plate and top it with one or two pieces of bone-in chicken, which is just super unoriginal.
What I like to do with my chicken and waffles is to incorporate them in a way so that you can get a little bit of chicken and a little bit of waffle in each bite with minimal effort. I've previously done this with things like Chicken and Waffle Wings, The Chicken and Waffle Cone and Chicken and Waffles on a Stick, and eating popcorn chicken out of edible waffle bowls is no different. On top of that, like most of my other recipes they're also really quick and easy to make.
I've included my go to waffle batter recipe below, but if you're feeling extra lazy feel free to use a boxed mix as well. For the popcorn chicken I just picked up a bag of frozen stuff from the grocery store, which actually worked out pretty great because I was able to toss it into the oven right along with the Bake-a-Bowl Pan
, so the waffle bowls and the popcorn chicken were done at almost the exact same time.
After that all you have left to do is fill the waffle bowls with the popcorn chicken and top them with powdered sugar and syrup!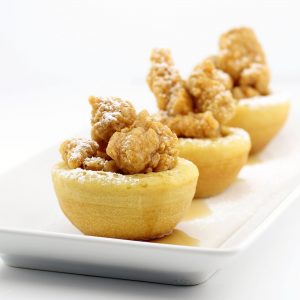 Popcorn Chicken in Edible Waffle Bowls Recipe
Nick @ DudeFoods.com
If you love chicken and waffles then you need to try this recipe for chicken served in edible waffle bowls!
Ingredients
2

eggs

1/4

cup

heavy cream

1/4

cup

water

2

cups

flour

1

tablespoon

sugar

1

teaspoon

vanilla extract

1/8

cup

vegetable oil

popcorn chicken

powdered sugar

syrup
Instructions
Preheat your oven to 350°.

Beats eggs and stir in cream and water.

Beat in flour and sugar until smooth, stir in vanilla and fold in oil.

Pour waffle batter evenly among the 6 cavities in the Bake-a-Bowl and add the top piece.

Bake for 30 minutes or until a toothpick inserted into the bowls comes out clean.

Fill waffle bowls with popcorn chicken, top with powdered sugar and drizzle with syrup.