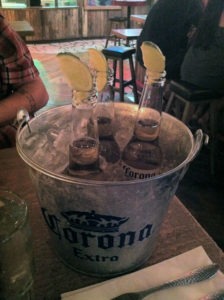 One of my favorite Las Vegas happy hour spots is Pink Taco, which is located inside the Hard Rock Hotel & Casino, where from 4pm to 7pm daily they feature half price appetizers and two for one beers and margaritas.
My buddy Nick and I stopped down there our second day in Vegas and after ordering a bucket of Coronas we took a look at the menu and decided to try the chicken nachos and an order of taquitos, which are crispy corn tortillas filled with mashed potatoes and cheese, topped with sour cream and cotija cheese and served with guacamole and pico de gallo salsa. The nachos were great, but the taquitos were what really stood out during our visit. I've eaten cotija cheese before, but I don't remember it being anywhere near this good. It's a shame that this cheese is usually only reserved for Mexican dishes. I need to find it in Milwaukee and start putting it on all my sandwiches, because it's certainly better than the pre-packaged cheddar or American cheese that I usually use.
All in all our bill only came out to only $22 for a total of four beers and two appetizers as well as some chips and salsa. Not a bad deal at all!