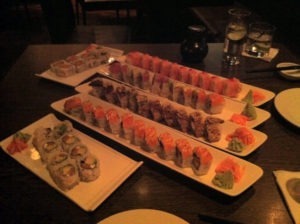 I know I normally write about burgers, pizza and giant sandwiches, but believe it or not one of my favorite foods in the entire world is actually sushi. While down in Chicago recently my wife and I made a dinner stop at Niu Japanese Fusion Lounge.
After enjoying an appetizer of chicken gyoza we placed our sushi order which consisted of an Energy Roll (tempura eel, onion and cream cheese topped with boiled eel, tempura crunch avocado, ponzu and eel sauce), a Pink Lady Roll (salmon tempura, avocado and plum mayo wrapped in pink soy paper), a Transformer Roll (tempura banana and eel topped with fresh salmon and spicy sesame mayo), a Rainbow Roll (eel and tempura crunch wrapped with yellowtail, tuna, salmon and avocado), the Bagel Maki (smoked salmon, cream cheese and avocado) and finally the Sweet Potato Tempura Maki.
After writing down our order the waitress asked us if we'd ever been there before. "Yeah, we actually have. Why?" I answered. "Oh, most couples usually split two or three sushi rolls between them, and you guys ordered six" was her reply. Never one to back down however I decided that we should stick with our order which totaled 56 pieces of sushi.
My wife ended up getting full after 19 pieces of sushi (she made me count how many pieces we each ate), so I picked up the slack and ate the remaining 37 pieces. The sushi at this place is great though, so it was really no problem at all. After that we split a piece of their Black Diamond Cheesecake and headed out.
I'd also like to point out how great the service is at Niu. Every time our waitress stopped by our table she made it a point to top off my glass of beer with any that was left in the bottle, and every time we'd finished all of the sushi on one side of the long rectangular plates it was served on she'd come over and flip the plate around for us so we didn't need to reach all the way across the table to eat more of it.