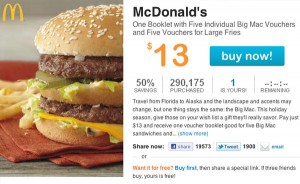 A few weeks back McDonald's offered a deal through LivingSocial where for $13 you'd receive a booklet with five individual Big Mac vouchers as well as five vouchers for large orders of fries, which is half the price of what the food would have cost otherwise. McDonald's even touted the offer as the "largest daily deal run with a fast-food chain." Since I eat there for lunch regularly I quickly clicked the "buy now!" button when I came across the offer.
By the time the deal ended 290,175 booklets were purchased, which is a total of 1,450,875 Big Macs and 1,450,875 orders of large fries. The problem with a nationwide deal of this magnitude though is that if you're going to do it you need to make sure that your employees actually understand how it works, which McDonald's clearly didn't do in this case.
I stopped at McDonald's yesterday on my lunch break and ordered a Big Mac, a McChicken sandwich and a soda. I handed one of my Big Mac vouchers to the cashier and after staring at it for a while she told me that she didn't know what to do with it, so she went to talk to whoever was in charge.
After a minute or so another employee came back, rang up my order and told me what I owed. The total seemed high to me so I questioned her. "You had a large soda, a McChicken and the $1.50 Big Mac LivingSocial deal" she replied. "Oh no, these vouchers are each good for a free Big Mac" I told her. "No, they're for $1.50 Big Macs" was her answer. I persisted and she left to call the store manager who wasn't there at the time. Don't get me wrong, it's not that I couldn't afford to pay $1.50 for a Big Mac, but it's the principle of the thing.
After returning from her phone call with the manager she informed that he had sided with her and that the LivingSocial Big Mac coupons were indeed for $1.50 "half price" Big Macs. "But Why would anyone want to pay half price for five Big Macs ahead of time and then pay the other half when they came into McDonald's to buy them?" I questioned. The only answer she could muster up was "I don't know, but that's how the deal works." There was another McDonald's on my way back to work anyway, so I decided to just leave and try my luck at that one where amazingly the voucher was good for a free Big Mac just as McDonald's and LivingSocial originally intended.
I thought I could finally enjoy my lunch until I sat down and opened my Big Mac box to see that the middle bun was missing. I took the burger back up to the counter, waited in line again and told them I was missing a bun. "Oh yeah, we're out of those" the cashier replied. "Why didn't you tell me that when I ordered one? I asked. "I don't know" was her answer. I swear, I couldn't make this stuff up if I tried. I mean, in my mind the middle bun is sort of what makes the Big Mac. Without it you just have a double cheeseburger with lettuce, pickles, onions and their secret sauce. She then offered to put the bottom of a hamburger bun in the middle of my Big Mac, which was good enough for me, as I was finally able to eat my lunch. I just feel bad for the next person who goes there and orders a burger only to get one without a bottom bun because they're now one short.
Will this prevent me from ever going to McDonald's again? Absolutely not. In fact, I still have four Big Mac vouchers and five large fry vouchers to use! Companies need to realize though that unless they educate their employees on how deals like this work that all they're doing is making their customers mad. I can completely understand if some employees aren't familiar with how the deal works, but when a store manager doesn't understand how it works is when there's a problem. Oh, and if you stop at the McDonald's on 81st and Brown Deer Road in Milwaukee and order a Big Mac you might want to check ahead of time and make sure that they currently have the middle buns in stock… Just a tip…
Update: 12/23/2011 — Someone from the McDonald's "Twitter Customer Satisfaction Team" reached out to me yesterday and asked me to call a special 1-800 number that they've set up specifically for questions about their LivingSocial deal. I called and told them about my experience and they offered to send me a $5 gift card for my troubles. In addition, I also received a call back from someone at the local McDonald's franchise office who apologized as well and explained that in order for the cashiers at McDonald's to ring up the LivingSocial deal they need to press a series of two buttons at the cash register – one to bring the price of a Big Mac down to $1.50, and one to take off the $1.50 and just charge you tax. It seems like the problem  with my order was that they pressed the first button, but didn't know that they were supposed to press the second one. Why not just have one button instead of two? I guess only McDonald's knows the answer to that one…
She also told me that the instructions should have been right there at the register so she "couldn't understand how the staff couldn't figure out." I'm definitely pleased with the quick response and honest explanation I received from McDonald's, but it still comes down to the fact that unless you educate your employees on how a deal like this works you're only hurting your company's reputation. Plus the fact that they set up a 1-800 number JUST for this specific promotion makes me think that this wasn't just an isolated incident like I originally thought it might have been.