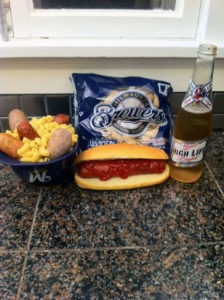 The Milwaukee Brewers home opener is today, and while I might not be a huge fan of baseball what I am a fan of is hanging out with my friends, drinking beer and eating tons of food. Even though I'm sitting at work today and won't be able to get down to Miller Park for the game I still wanted to make a special DudeFoods inspired creation to commemorate opening day, and that's how I came up with the idea for Miller Park Mac 'n Cheese.
If you've never been to a Brewers home game then you're probably not familiar with the sausage race that takes place in the bottom of the sixth inning. The race basically consists of five different mascots in sausage costumes (a bratwurst, a Polish Sausage, an Italian sausage, a hot dog and a chorizo) racing half way around the baseball diamond. The sausage race first started back in 1994 and originally only took place on Sundays, but by the 2000 season they were racing during every single game like they still do today.
Now, hot dogs in macaroni and cheese are nothing new, but what I decided to do with my Miller Park Mac 'n Cheese was take that concept to the next level and add not only hot dog slices, but bratwurst, Polish sausage, Italian sausage and chorizo slices as well. In keeping with the full baseball spirit I also decided to enjoy my macaroni and cheese with a hot dog, some peanuts and an ice cold Miller beer. Although I'm not attending opening day this year, I was at least able to experience the tailgating experience courtesy of this delicious meal.