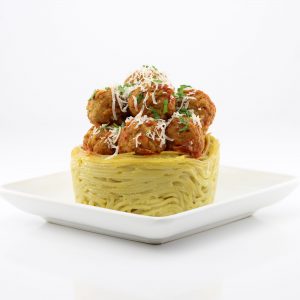 What do you do when you're too hungry for Spaghetti Noodle Shot Glasses but not quite hungry enough for a Spaghetti and Meatball Cone? You make edible spaghetti noodle bowls and eat meatballs out of them!
I originally tried making these with the same Bake-a-Bowl Pan
that I used to make Scrambled Eggs in Edible Pancake Bowls and Macaroni and Cheese in Edible Corn Dog Bowls, but they were a little too small for my liking so I instead switched to a couple glass food storage bowls — one slightly smaller than the other — and just packed spaghetti noodles between them and baked them in the oven to create my edible bowls.
The trick with these is to figure out a time and temperature where the noodles are baked enough to keep the bowl together when you pack the bowls with meatballs, yet soft enough that they're actually still edible, and after a few tries I've discovered that the sweet spot is 350° for 30 minutes.
Next up I think I'm going to try making some edible macaroni and cheese bowls! I just need to figure out what to fill them with!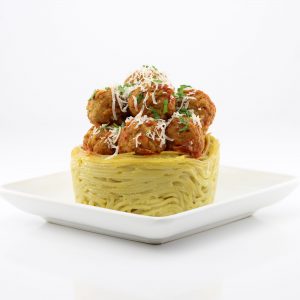 Meatballs in Edible Spaghetti Noodle Bowls Recipe
Nick @ DudeFoods.com
Are you still combining your spaghetti and meatballs in a regular bowl? Lame! Try this recipe for edible noodle bowls instead!
Ingredients
8

ounces

spaghetti noodles

2

eggs

20

mini meatballs

2

cups

spaghetti sauce

Parmesan cheese
Instructions
Cook spaghetti noodles according to the directions on the package, rinse with cold water and mix with 2 eggs.

Spray the inside of the larger bowl and the outside of the smaller bowl with non-stick cooking spray.

Place about 1/4″ of spaghetti noodles in the bottom of the larger bowl and place the smaller bowl into the center of the larger bowl.

Continue wrapping spaghetti noodles around the smaller bowl — between the two bowls — until they reach the top of the smaller bowl.

Bake at 350° for 30 minutes.

Remove the smaller bowl by twisting it and then flip the larger bowl upside down and remove your finished spaghetti noodle bowl. If the noodles are still sticking to the glass bowls you may need to trace around the bowls with a knife to help loosen them.

Cook meatballs according to the directions on the package and mix with spaghetti sauce.

Fill spaghetti noodle bowls with meatballs and top with Parmesan cheese.