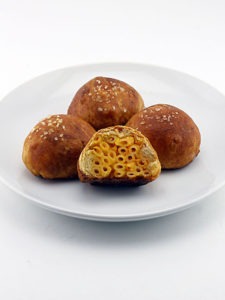 This is an idea I've been sitting on for a while now. A little over a year ago the Milwaukee Bucks held a contest where you had to submit bratwurst-related food ideas to them, with the winner receiving courtside seats to a game and free brats for a year.
I didn't end up winning, but one of my entries that I made for the contest was brats that were topped with sauerkraut and then wrapped in a homemade soft pretzel breading. They were basically a German version of Pigs in a Blanket. More importantly though, they were my first foray into making homemade pretzels.
Since then I've made plenty of homemade soft pretzels and even pretzel buns for burgers, but I never attempted these Macaroni and Cheese Stuffed Pretzel Balls until recently. I don't really have a good reason why either, but I think part of it has to do with the fact that when a bowl of mac and cheese is sitting in front of me it's impossible for me to not just scarf it down immediately versus waiting to use it as part of another dish.
Anyway, these are super, super easy to make. It's almost stupid how easy they are. I started off by picking up some frozen Rhodes Dinner Rolls from the grocery store and putting them on a sprayed baking sheet on my kitchen counter to let them thaw for two hours. In the meantime I made some macaroni and cheese and spooned it into an ice cube tray and put it in my freezer. When the dinner rolls were thawed I took them one by one, flattened them with a rolling pin, wrapped each one around a frozen cube of macaroni and cheese and rolled them into balls.
Next up is the most important part. You're going to want to submerge the pretzel balls for 60 seconds each into a pot of boiling water that you've added one tablespoon of baking soda to. Baking soda? Yep! There's some sort of science behind this, but since I got a D in high school science class all I can tell you is that this is what will give the dough the distinct pretzel coloring and taste that we've all grown to love.
After you've removed your pretzel balls from the boiling water you're going to want to let them sit on a cooling rack for a few minutes. It's at this point that you'll also want to sprinkle pretzel salt — or Kosher salt if you can't find pretzel salt — on top of them. The final step is to put them back on a sprayed baking sheet and throw them into your oven at 375° for 15 – 20 minutes or until they're golden brown! You can also brush your pretzel balls with melted butter for the final few minutes of the baking process to make them even tastier, but it's definitely not necessary.
After how great these turned out my mind has been racing trying to think of other things I can stuff inside pretzel balls — burger stuffed pretzel balls, bacon stuffed pretzel balls, nacho cheese stuffed pretzel balls, the possibilities are endless!