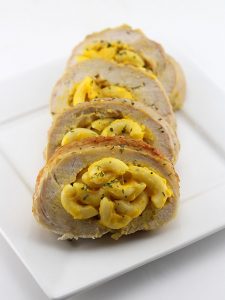 For the past two years I've been working with Smithfield to create recipes using their various pork products.
In case you've missed them you can click here to check out all the different dishes I've come up with thus far. For this one they shipped me one of their Original Recipe Marinated Fresh Pork Loin Filets to work with.
With every single recipe I've talked about how simple Smithfield makes it for you with their Marinated Fresh Pork products since they basically do all the prep work for you.
The meat comes seasoned, marinated and is available in a ton of different flavors and cuts. All that's really left for you to do is grill, roast, or sauté the meat, or in this case, flatten it out, top it with macaroni and cheese, roll it back up and toss it in your oven!
Usually when you're stuffing a pork loin you're packing it with something like spinach or mushrooms, but since macaroni and cheese takes up a little more room you're going to want to get the tenderloin as flat as possible using a meat tenderizer. You'll also want to make sure not roll it too tight so you don't lose any of the filling.
Also — don't get me wrong — I absolutely love homemade macaroni and cheese, but since Smithfield specifically asked me to keep these recipes around the 30 minute mark I just went with some microwavable stuff that I picked up at the grocery store.
If you've got a little extra time though and you have a homemade macaroni and cheese recipe that you love then by all means, use that instead. Or who knows, maybe the fact that the pork loin from Smithfield can pair with microwavable macaroni and cheese to create an amazing dish is just another testament to how great their pork really is….
For more easy recipe ideas head over to Smithfield.com/RFRF or facebook.com/CookingWithSmithfield. Or, if you're looking for something a little more fancy check out this recipe for Pork with Sweet Balsamic Red Wine Reduction.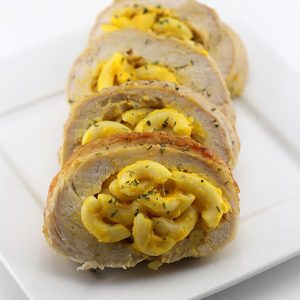 Macaroni and Cheese Stuffed Pork Loin Filet Recipe
Nick @ DudeFoods.com
If you're going to stuff your pork loin why not stuff it with macaroni and cheese?!
Ingredients
1

Smithfield Original Recipe Marinated Fresh Pork Loin Filet

1

package

microwavable macaroni and cheese
Instructions
Preheat your oven to 375°F.

Place your pork loin filet on a cutting board and use a sharp knife starting about 1/4″ from the top of the pork loin to slice it all the way across, being careful not to cut all the way through.

Continue cutting while unrolling the meat until you have a large, rectangular piece of meat and then flatten the pork loin out even more with a meat tenderizer.

Cook macaroni and cheese according to the directions on the package and spoon on top of pork loin leaving about 1″ of space around all the edges.

Fold one side of the pork loin over and slowly roll it up, being careful not to roll it too tightly or you'll lose all the macaroni and cheese out of the ends. Wrap butcher's string around the pork loin or secure with toothpicks.

Place pork loin in a shallow roasting pan and roast for 30 minutes per pound or until the internal temperature of the thickest part of the pork is 150°F.

Let stand for 10 minutes before slicing.