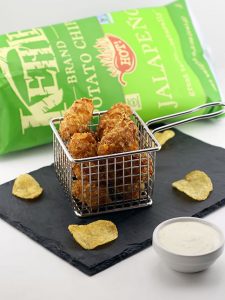 Kettle Brand sent me a case of their chips recently and asked me to use them to crate a tailgate-themed recipe to celebrate the return of football season.
After coming up with about ten different ideas — all of which would be amazing with the addition of potato chips — I finally narrowed it down to only one…. Kettle Brand Chips Breaded Deep Fried Cheese Curds!
Now, I know that you're probably thinking "But Nick, who actually brings a deep fryer to a tailgate?" Well, here in Wisconsin you'd be surprised at just how many of them you see outside of Lambeau Field on Packers game days!
The next task was narrowing down which variety of Kettle Brand Chips I wanted to bread my cheese curds with. The four different flavors they sent me — Buffalo Bleu, Jalapeño, Himalayan Salt and Pepperoncini — all would have been perfect, but in the end I decided to go with the jalapeño flavored Kettle Brand Chips.
Normally I'm not a big fan of spicy chips, but used as a breading on deep fried cheese curds and dipped in ranch prior to eating them the jalapeño Kettle Brand Chips had the perfect amount of kick!
If you live in a part of the country where cheese curds aren't quite as abundant as they are here in Wisconsin you could easily substitute mozzarella sticks in their place and bread those with Kettle Brand Chips instead. In fact, I think I might have to try making those next!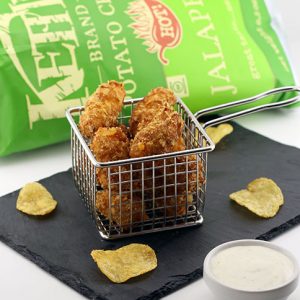 Kettle Brand Chips Breaded Deep Fried Cheese Curds Recipe
Nick @ DudeFoods.com
Deep fried cheese curds are delicious already, but they're even better when you bread them in crushed up potato chips!
Ingredients
2

quarts

oil

for frying

1

bag

Kettle Brand Chips

crushed into crumbs

1

pound

fresh cheese curds

1/2

cup

milk

6

eggs

2

cups

flour

Ranch or your preferred dipping sauce
Instructions
Heat oil in deep fryer or heavy skillet to 375°F.

Combine milk and eggs in a bowl and whisk until smooth.

Coat cheese curds in in flour, dip in egg wash and roll in crushed up Kettle Brand Chips. If the curds need additional coating dip again in the egg mixture and roll again in Kettle Brand Chips crumbs.

Fry cheese curds in batches for approximately 60 seconds each batch.

Drain on paper towels. Serve immediately with ranch or your preferred dipping sauce.