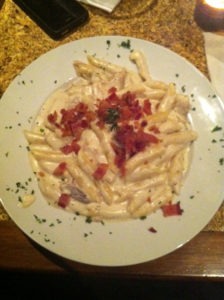 I'd heard so many rave reviews about Juniper 61 since it opened about two years ago that I finally made it a point to stop in and have dinner there recently. They have a pretty eclectic menu, and so many of their dishes sounded so good that deciding what to order was tough. We decided to start with an appetizer of Chile Sweet Potato Fries, but unfortunately they were out of them. "No problem" I thought to myself, "It's pretty packed here and restaurants occasionally run out of their more popular items, we'll just skip the appetizer and order our meal."
Their flat bread pizzas with made from scratch sauces sounded good, especially the Pizza Mexicana, which consisted of roasted chicken, black beans, tomatoes, onions, cilantro and guacamole. I decided to order that. Unfortunately they were out off all their pizzas as well. My next choice was the Stout-Braised Short Ribs, but nope, they didn't have those either. Suddenly their expansive menu didn't seem so great after all. I can understand running out of one or two things, but this was just ridiculous.
At this point I felt like I probably should have just asked our waitress exactly what they DID have, but I took one last chance and ordered the Rosemary Chicken Mac-n-Cheese which they luckily hadn't run out of yet.
The frustrating start to our dining experience at Juniper 61 was at least offset by the fact that the macaroni and cheese turned out to be really really good. It had a creamy Romano and Gorgonzola cheese sauce and the dish contained not only chicken, but bacon as well. Anyone that knows me knows that I'm a sucker for bacon.
The funny thing is, even after this not-so-great experience I'd like to give them the benefit of the doubt that this was an isolated incident. I can't imagine that they'd still be in business if running out of this many menu items was a regular occurrence.
Update: 3/28/2011 — I tried Juniper 61 for the second time last night and experience the exact same problem with them running out of certain dishes. This time it was with two of the three specials for that they were featuring. Our waitress actually came over to our table, handed us the list of specials for the night and said "These are our specials, but we're out of this and this." Wouldn't have just made more sense for her to say "Our special for tonight is _______" and mention the one special that they hadn't run out of yet?