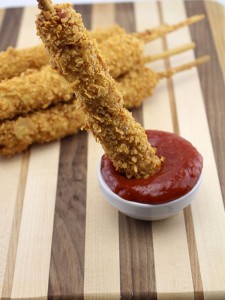 Pringles recently launched a limited-edition "Hot Diggity Dog" flavor that tastes like hot dogs and the first thing that came to my mind when I saw them — aside from the fact that I could probably eat an entire can in one sitting, but then again, that's me with pretty much any flavor of Pringles — was that I needed to bread some actual hot dogs in them and deep fry them.
In the words of Xzibit, host of the classic MTV show Pimp My Ride, "Yo dawg, I heard you like hot dogs, so we breaded some hot dogs in hot dog flavored Pringles!"
My first foray into the world of homemade corn dogs — not that I'd necessarily call these Hot Dog Pringles Breaded Deep Fried Hotdogs corn dogs, although Pringles are made with corn flour and do come deep fried and on a stick so I guess technically you could make that argument — was last summer when I made a Tater Tot Breaded Corn Dog and followed it up with a  Racing Sausages Corn Dog.
Both of those turned out damn near perfect — and crazy delicious — but I still had no idea how well a Pringles breading would taste on a deep fried hot dog. Well, long story short, the chips on their own aren't anything to write home about — they taste like mustard more than anything with a faint hot dog aftertaste — but when you use them to bread a hot dog they're actually pretty damn good! On top of that, one can of Pringles was enough to make six Hot Dog Pringles Breaded Deep Fried Hotdogs!
Wanna make your own? Just shove a stick through some hot dogs — chopsticks work really well for this by the way — coat them in flour, dip in egg, roll them around in crushed up Hot Diggity Dog Pringles and drop them in your deep fryer! Or you can just watch the video below and live vicariously through me.