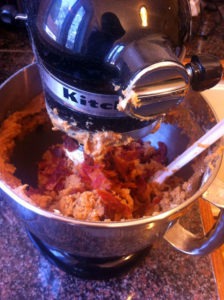 Don't you hate it when you think you have a great idea only to find out that tons of other people have already thought of the exact same thing?
That's pretty much what happened to me with these cookies. You see, I volunteered to bake some cookies for an upcoming Cookies For Kids' Cancer bake sale and instead of just taking the easy route and making chocolate chip or peanut butter cookies I wanted to come up with something that would encapsulate the ridiculousness that is DudeFoods and put it in cookie form.
That's when I decided to take Elvis's classic peanut butter, bacon and banana sandwich and make a cookie version of it.
As soon as I thought of the idea I headed to Google, and that's when I discovered, much to my dismay, that there were already Elvis cookie recipes out there. I was curious to see what they'd taste like though, so I changed up one of the recipes I found and made them anyway!
Since the cookies themselves weren't a truly original idea I decided to do something with them that I didn't see anywhere online, and that something was an Elvis sandwich with Elvis cookies as the bun!
How can you top biting into peanut butter, bacon and banana cookies only to have your taste buds come in contact with even more peanut butter, bacon and banana in between the two cookies? Obviously this is a rhetorical question, because the clear answer is that you can't top it!
If you're from Milwaukee and too lazy to make your own Elvis cookies (or if you just want to support a great cause) and you'd like to purchase some I'll be making a fresh batch for the Milwaukee Cookies For Kids' Cancer bake sale that's taking place from 1 – 4pm on Saturday, May 24th at the Best Place at the Historic Pabst Brewery. There's also going to be a silent auction with tons of great items, so stop down, enjoy some cookies and a beer and bid on some items! You can get more details by clicking HERE.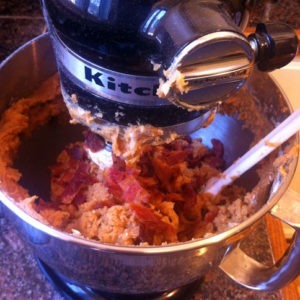 Peanut Butter, Bacon and Banana Elvis Cookie Recipe
Nick @ DudeFoods.com
If Elvis had a favorite cookie recipe it would probably be these cookies which combine peanut butter, bacon and banana!
Ingredients
6

strips

bacon

1

egg

1/2

cup

butter

2

cups

brown sugar

1

cup

white sugar

1 1/2

cups

peanut butter

2

teaspoons

vanilla extract

3

bananas

2 1/2

cups

flour

1/2

teaspoon

baking powder
Instructions
Cook the bacon according to the directions on the package.

Chop bacon into small pieces, combine it into a bowl with the remaining ingredients and mix it all up.

Place spoonfuls of cookie dough on a baking sheet and toss it into the oven for 15 minutes at 350°.