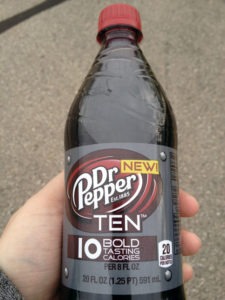 I received a few free bottles of Dr. Pepper TEN recently. By now I'm sure you've probably seen a commercial for the soda, but just in case you haven't I've embedded one of them down below. Dr. Pepper TEN is basically a diet version of Dr. Pepper that's marketed towards guys. Oh wait, that's right, it has ten calories per serving though so it's not really a "diet" soda since you know, guys apparently don't like diet soda – at least according to a recent survey.
I know the whole advertising campaign for this new soda isn't meant to be completely serious, and is meant to be a little over the top, but the fact of the matter is that it just isn't very original. Guys firing lasers and driving through the jungle in Jeeps? Check! A tagline specifically pointing out that the new soda is for men only? Got it! They even set up a Facebook page featuring their ten commandments or "Man'Ments" as they like to refer to them.
As far as taste goes I'm sorry to report that Dr. Pepper TEN tastes nothing like regular Dr. Pepper, regardless of how much they want to tell you that it does. The funniest thing about Dr. Pepper TEN though is that if guys really drink it because they think it's so "manly," then shouldn't they be manly enough to be OK with drinking a regular diet soda since that's pretty much what Dr. Pepper TEN is anyway?
In addition at being terrible at coming up with decent marketing campaigns the folks at Dr. Pepper are also apparently pretty bad at math. According to them the soda has ten calories per 8 ounce serving, yet a 20 ounce bottle somehow has only 20 calories instead of 25. If Dr. Pepper TEN is still around a year from now I'll seriously be surprised.