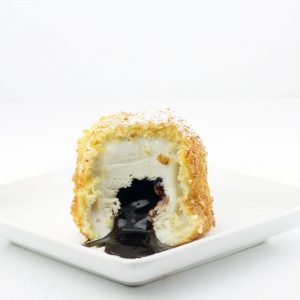 I came up with this idea one night as I was sitting on the couch watching Netflix and eating a pint of chocolate chip cookie dough ice cream.
All the cookie dough chunks seemed to be concentrated right in the middle so that's where I kept scooping from. In the end I was left with a pint of ice cream that had a completely hollowed out center.
Immediately my instinct to deep fry everything in sight kicked in and I started thinking about how cool it would be to fill the center with chocolate syrup, bread the entire thing in panko breadcrumbs and deep fry it to create sort of a Deep Fried Ice Cream Lava Cake.
My original plan was to make these using an entire pint of ice cream, but I really had no clue if my idea would even work, so when I found some mini tubs of ice cream at the grocery store that were about the size of 1/3 of a pint for only $1 each I figured that they'd be perfect to use for my little experiment!
In the end not only did the Deep Fried Ice Cream Lava Cakes turn out amazing, but the smaller tubs of ice cream ended up being a much better idea anyway since they're the perfect serving size for one person. Not that Im opposed to finishing an entire pint of an ice cream at once….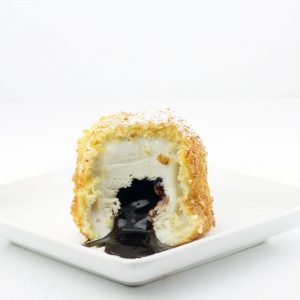 Deep Fried Ice Cream Lava Cake Recipe
Nick @ DudeFoods.com
You may have had deep fried ice cream before, but you've never had it like this!
Ingredients
6

mini tubs (approximately 1/3 of a pint each)

ice cream

1

bottle chocolate syrup

4

eggs

1/3

cup

milk

4

cups

panko breadcrumbs

2

quarts

oil

for frying

Powdered sugar
Instructions
Scoop the middle out of each of the ice cream tubs, fill with chocolate syrup and then cover with some of the ice cream that you originally scooped out.

Put ice cream tubs back into the freezer for at least 30 minutes.

Set up a dredging station with two bowls — beaten eggs and milk in the first one and panko breadcrumbs in the second one.

One by one use scissors to cut down the side of the ice cream tubs so you can remove the ice cream.

Submerge ice cream in egg wash and coat in panko breadcrumbs. Repeat this step a second or even a third time if necessary.

Freeze for at least another 30 minutes.

Heat oil in deep fryer or heavy skillet to 375°F.

Fry your Ice Cream Lava Cakes for 45 seconds each, coat in powdered sugar and serve immediately.