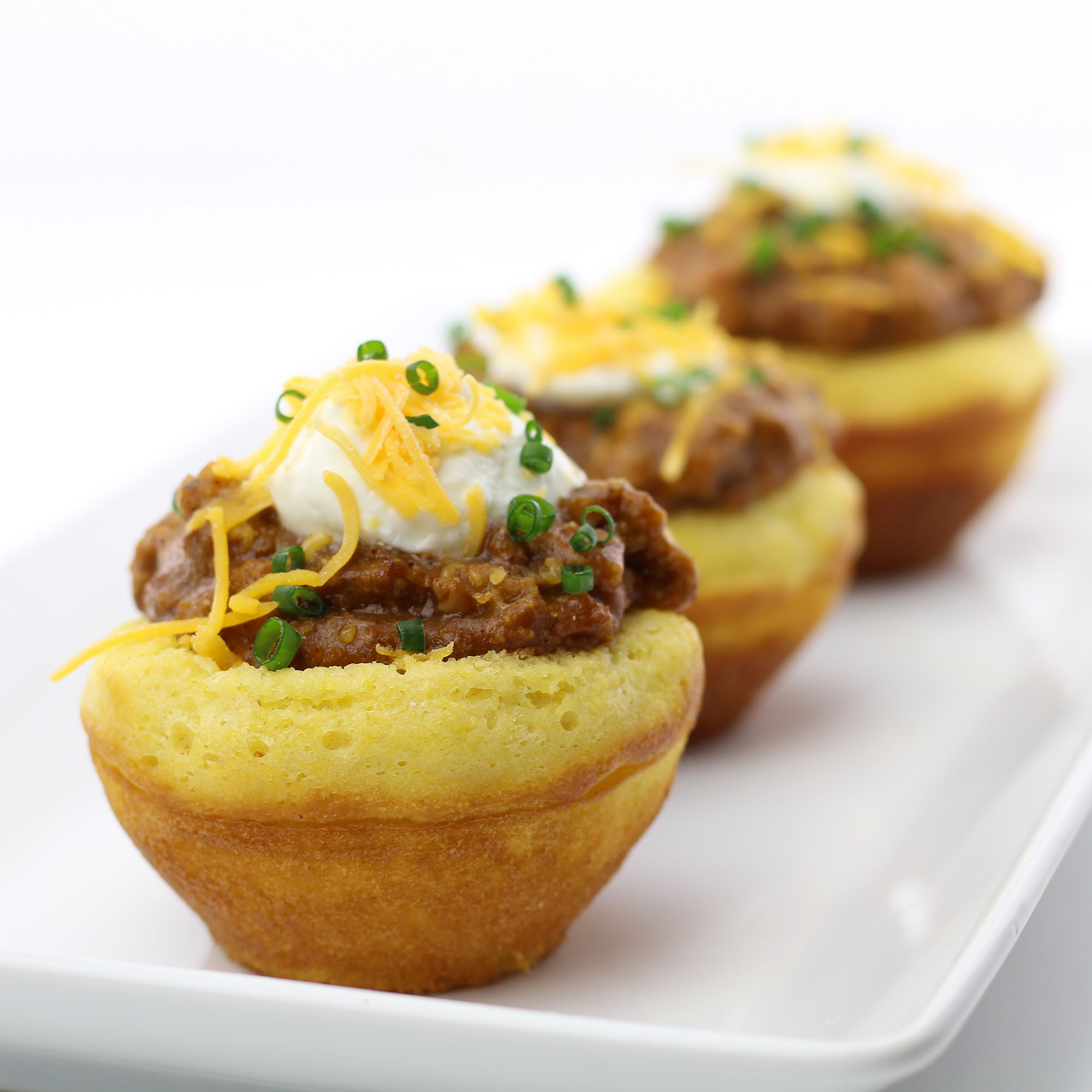 Looking for a unique way to enjoy your chili? Skip the regular bowls and serve it out of edible cornbread bowls instead!
This recipe is also perfect if you'd like to eat your chili as more of an appetizer than a full meal.
The cornbread bowls are made using a Bake-a-Bowl Pan that's actually meant for baking brownie bowls. Oddly enough though out of all the crazy concoctions I've made using the pan so far I've never once actually used it for brownies.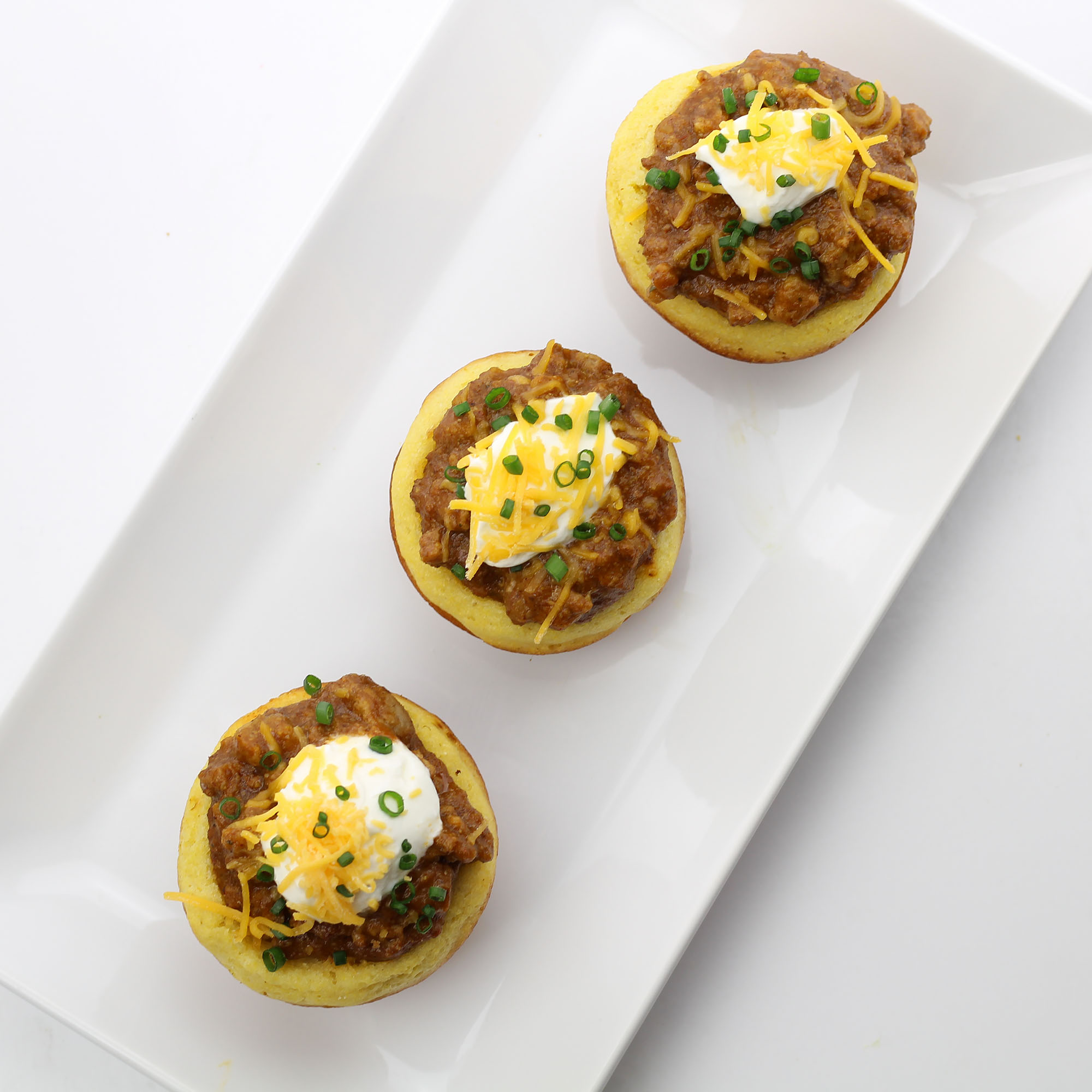 Aside from cornbread bowls the pan can also be used to make biscuit bowls, hash brown bowls, chocolate chip cookie bowls, cinnamon roll bowls and even macaroni and cheese bowls. In fact you might as well just click here and check out all the crazy stuff I've made with it so far. The possibilities are pretty much endless….
I've included my go-to chili recipe below, but it doesn't include beans which I know is almost sacrilegious for some people when it comes to chili, so if you've got a chili recipe that you prefer then by all means feel free to use that one instead. Or you could just take my recipe and add some beans to it. You do you.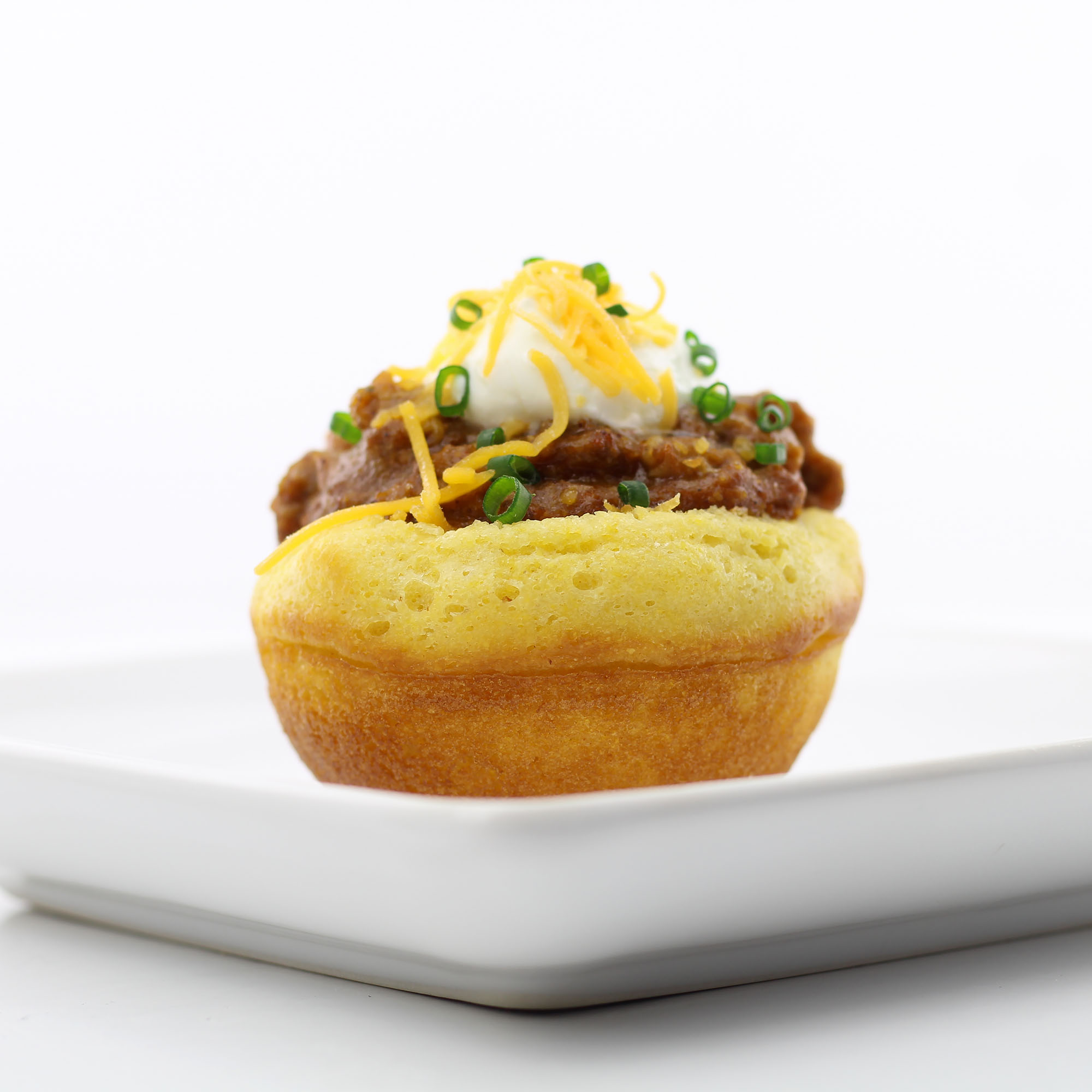 If you want to save a little bit of time you could also use boxed cornbread mix instead of the cornbread recipe below, but if you're already making homemade chili anyway then spending an extra five minutes to make the cornbread mix yourself is nothing. Or, if you don't want chili at all you could fill your cornbread bowls with pulled pork, macaroni and cheese and coleslaw!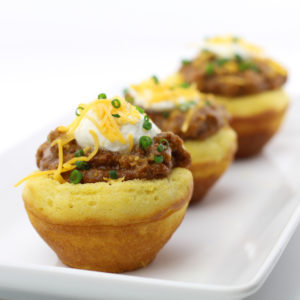 Chili in Edible Cornbread Bowls Recipe
Nick @ DudeFoods.com
Looking for a unique way to enjoy your chili? Try serving it in these edible cornbread bowls!
Ingredients
1

cup

cornmeal

3/4

cup

flour

1/3

cup

sugar

1 1/2

teaspoons

baking powder

1/4

teaspoon

salt

2

eggs

1

cup

milk

1/3

cup

vegetable oil

1

pound

ground beef

1

can (8 ounces)

tomato sauce

1

small onion

chopped

1

garlic clove

minced

2

tablespoons

chili powder

1

teaspoon

cumin

1/2

teaspoon

paprika

1/2

teaspoon

ground cayenne pepper

Your choice of toppings

I went with sour cream, shredded Cheddar cheese and green onion.
Instructions
In a bowl combine cornmeal, flour, sugar, baking powder and salt. Stir in egg, milk and vegetable oil.

Pour batter into the Bake-a-Bowl Pan.

Bake at 375° for 20 minutes or until a toothpick inserted into the cornbread bowls comes out smooth.

Brown the ground beef and drain the fat.

Add tomato sauce, onion, garlic, chili powder, cumin, paprika and cayenne pepper and simmer for an hour.

Fill cornbread bowls and top with your choice of toppings.