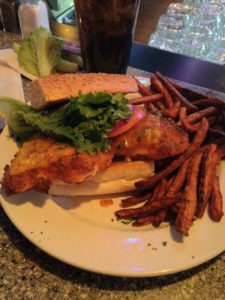 Screw spices and fancy marinades, if you really want to make a good chicken sandwich all you really need to do is bread it with Cheetos. That's what I discovered recently at Tower Restaurant & Bar when I tried their Cheeto Crusted Chicken Sandwich.
The sandwich starts off as a simple half pound chicken breast but takes an interesting (and delicious) turn when the culinary minds at Tower bread it with crushed up Cheetos and top it with lettuce, tomato, onions, Wisconsin Cheddar cheese and a Parmesan mayo before serving it between two slices of French bread.
I have to admit, I was a little worried that all the Cheetos plus the additional Cheddar cheese would make this sandwich way too cheesy, but that wasn't the case at all and it was actually really, really good. Then again, this is coming from the guy who just added six pounds of cheese to his Domino's pizza.
The French bread in lieu of a bun was a nice touch as well. With French bread you always run the risk of it getting hard if its been sitting out too long and thus ruining your entire sandwich eating experience, but the bread at Tower was as soft and as fresh as could be. Oh yeah, and did I mention that they also have awesome sweet potato fries? Because they totally do…
You know what else I love about Tower Restaurant & Bar? They have a foosball table! Seriously, more bars need foosball tables. In fact, here's a list of all the things I'd like every bar to have:
Foosball tables
Pinball machines
A decent selection of beers on tap. I get that I live in Milwaukee, but bars that only have MillerCoors products on tap drive me nuts.
Those awesome Dyson hand dryers in the bathrooms
An internet downloadable jukebox. If you're going to have a jukebox at your bar please make it one of those internet downloadable jukeboxes. This of course doesn't really matter if you have awesome taste in music and actually fill your jukebox with decent stuff, but most bars that I've been to that have regular jukeboxes just fill them with tons of those "Now That's What I Call Music!" CDs. Oh really, is that what you call music? Because I call it crap.
Late night breakfast service. Seriously, why do no bars serve breakfast late at night? I'm sick of having to leave the bar I'm at to go to a 24 hour diner for breakfast. I'd prefer to just eat some eggs and hash browns or a breakfast burrito while I continue drinking beer.
If there was one bar out there that had all these things I'm pretty sure that I'd spend all my free time there. Anyway, I feel like I'm getting off point here, but the gist of this blog post is that if you're looking for a delicious chicken sandwich that strays a bit from the ordinary then you need to check out the Cheeto Crusted Chicken Sandwich at Tower Restaurant & Bar.