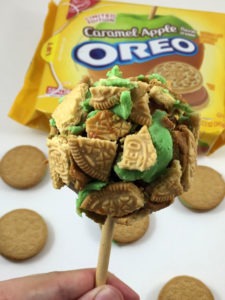 Fall is here and one of the things I always look forward to foodwise this time of year is caramel apples. The people over at Oreo must feel the same way because they recently introduced a new limited edition Caramel Apple flavor, which is being sold exclusively at Target.
Now I've seen caramel apples with nuts on the outside before, and that's great and all, but do you know what's about a million times better? Caramel apples coated in crushed up Caramel Apple Oreos!
The only real trouble I ran into while making my Caramel Apple Oreo Coated Caramel Apples was that I had to go to three different Target locations before I found one that actually had the delicious new cookies, but once I had those in hand it was just a matter of picking up a few apples and some caramel and then making regular caramel apples and sticking pieces of crushed up Oreo cookies into the gooey caramel. Fall weather, I may not be psyched that you're here already, but at least I now have Caramel Apple Oreo Coated Caramel Apples to cheer me up!