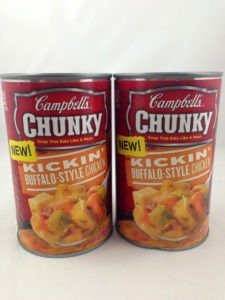 Aside from the occasional beer cheese variety I really don't eat soup too often. It's not that I dislike soup, it's more that I'm just not a fan of the soup eating process. It's SO slow…. If it was socially acceptable to treat soup like the leftover milk in the bottom of a cereal bowl and just life the bowl up to my mouth and drink it I'd be all over it, but as it is I'm just way too impatient.
Luckily, while checking out the back of one of the cans of Kickin' Buffalo-Style Chicken soup that Campbell's sent me recently I noticed that they suggest serving it over cornbread, so that's how I decided to try it.
Taste-wise the soup tastes just like a Buffalo style sauce and has chunks of chicken, potatoes, celery and red peppers. Eaten by the spoonful it was definitely kickin' and was almost even a little too spicy for me, although I'm a total wuss when it comes to anything even remotely spicy. Over cornbread though I liked it a lot more. It was definitely one of the more filling soups I've eaten.
I'd also be willing to bet that if you mixed this soup with some cream cheese you could make some pretty delicious Buffalo chicken dip. Maybe I'll try that with the one can I have left. Oh yeah, and if you want to make awesome cornbread at home try using half cornbread mix and half yellow cake mix. You can thank me later….