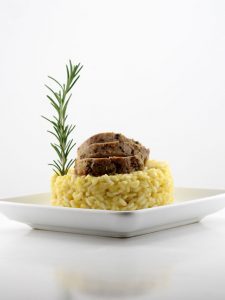 What!? A blog post that doesn't involve me deep frying something!? Yep, I'm going all fancy on you guys with this one, but what's also really great about this recipe is how insanely simple it is.
For the past two years I've been working with Smithfield to create recipes using their various pork products.
In case you've missed them you can click here to check out all the different dishes I've come up with thus far, and for this one they shipped me one of their Roasted Garlic & Cracked Black Pepper Marinated Fresh Pork Tenderloins to work with.
Guys, if you've got a girlfriend / fiancée / wife / whatever then this is a super easy dish you can make for her that she's guaranteed to love while at the same time thinking that you spent all night in the kitchen. Don't worry though, I won't tell if you don't….
If you're not married, don't have a girlfriend and don't have anyone else to make it for then invite your mom over for dinner and cook it for her. She'll appreciate it. Plus, if she's anything like my mom she's probably getting on your case right now that you haven't called her in a few weeks anyway….
What's really great about Smithfield Marinated Fresh Pork is in addition to having a ton of different flavors they also do all the prep work for you. On top of that, you can grill it, sautée it, throw it in the oven, or even slice or cube it prior to cooking if you need it done even faster. Even without putting in an extra work though it's still ready in about 30 minutes, which is pretty unbeatable.
If you want to try and plate your dinner all fancy like I did with mine just take a springform pan, remove the bottom and put it on top of your plate, pack it with the risotto, remove the pan, top the rice with the tenderloin and then poke a sprig of rosemary in there. Even if you don't though, it'll still taste amazing.
For more easy recipe ideas head over to Smithfield.com/RFRF or facebook.com/CookingWithSmithfield. This recipe video for Smithfield Cheddary Pork and Corn Casserole that they've put together also looks pretty phenomenal!
Oh, and if you're really missing the whole deep frying thing check back tomorrow where I'll have another simple recipe — involving deep frying — to use any leftovers you might have from this one.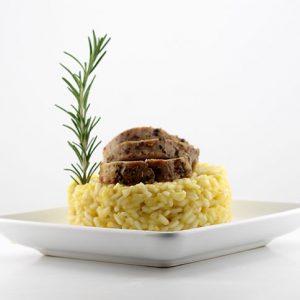 Butternut Squash Risotto With Roasted Garlic & Cracked Black Pepper Pork Tenderloin Recipe
Nick @ DudeFoods.com
If you're looking to impress someone with a super fancy looking dish without actually having to put much effort into it then this Butternut Squash Risotto With Roasted Garlic & Cracked Black Pepper Pork Tenderloin is for you!
Ingredients
1

Smithfield Roasted Garlic & Cracked Black Pepper Pork Tenderloin

4

cups

chicken stock

1

cup

water

1

small onion

chopped

1

clove

garlic

chopped

2

cups

arborio rice

2

cups

butternut squash

peeled and diced

2

tablespoons

butter

1

cup

Parmesan cheese

grated
Instructions
Cook Smithfield Roasted Garlic & Cracked Black Pepper Pork Tenderloin according to the directions on the package.

Combine chicken stock and water in a saucepan and keep warm over low heat.

Melt butter in a separate saucepan and add onion, garlic and butternut squash and cook over medium heat for 5 minutes or until garlic and onion are softened. Add rice.

Add chicken stock 1/2 cup at a time stirring frequently until broth is completely absorbed. Repeat until chicken stock is gone.

Stir in grated Parmesan cheese when the last 1/2 cup of chicken broth is almost absorbed.

Serve with sliced tenderloin.