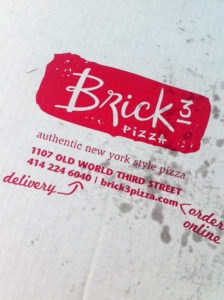 Located in downtown Milwaukee, Brick 3 Pizza has been open for two and a half years now. I've eaten there about eight or nine times in that span, but due to their late night hours and close proximity to numerous bars none of those visits have been before 2am, or, for that matter, when I've been sober. Since pretty much everything tastes good when you're drunk however I was a little nervous that Brick 3 wouldn't be quite as good as I remembered when I stopped in for lunch recently. That wasn't the case at all though and every bite of pizza was just as delicious as each my previous late-night visits.
One slice of pizza from Brick 3 is easily enough to fill you up, but since I couldn't decide what I wanted to eat during my most recent trip there I went a little overboard and ordered four different slices. First up was a slice of macaroni and cheese pizza, which is easily my favorite pizza that Brick 3 serves. I also decided to try a slice of the BBQ chicken and bacon pizza and a slice of their caprese pizza, both of which I'd also had before. I couldn't quite decide what to order for my fourth and final slice and wanted to try something new, so the guy working behind the counter suggested that I try their baked potato pizza, which is topped with potatoes, bacon, scallions, Cheddar cheese, mozzarella cheese and sour cream.
Although the mac & cheese pizza will probably always be my favorite thing to order at Brick 3, the baked potato pizza was alarmingly good. I'm not usually a huge fan of baked potatoes, but chopping a few of them up and covering a crust with them and some traditional baked potato toppings makes for a really great tasting pizza. So there you have it folks, Brick 3 Pizza, great for when you're drunk and just as good when you're sober!