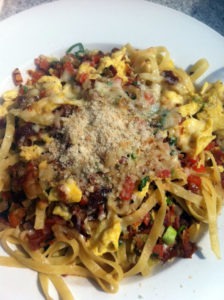 You can file this dish under "food ideas I wish I would have thought of." I was brunching with my wife and a couple friends at The Knick recently and what did I come across on their menu? Breakfast pasta! That's right, as part of their Sunday brunch menu the restaurant serves up fettuccine tossed with scrambled eggs, onions, tomatoes and bacon and topped with Parmesan cheese and bread crumbs.
The only downfall of having pasta this early in the day is that it makes you pretty sluggish, especially when you pair it with multiple beers like I did. Aside from that though this was one of the best breakfasts I've had in a long time. In fact, there were a couple other brunch items on The Knick's menu that I might need to stop back soon and try like their Crab Cake Benedict or the Andouille Sausage Omelette that they offer.
Now that I've eaten breakfast pasta I'm racking my brain trying to come up with other foods that could be turned into breakfast foods by adding eggs and bacon to them. I've already had plenty of different breakfast pizzas in my life, but what about breakfast nachos? You could just take some tortilla chips and cover them in scrambled eggs, breakfast sausage, bacon and peppers and melt a bunch of cheese all over them. Breakfast lasagna? That might not be a bad idea either!