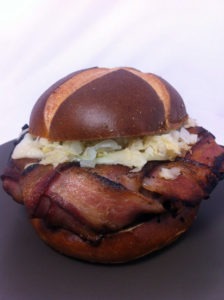 About a month ago Johnsonville sent me some of their new bratwurst patties and Italian sausage patties to try. I've cooked them on my grill a few times now since they were delivered to my front door and long story short, they're delicious and up until now I never even paused long enough while eating them to take a picture. Since just cooking these up and tossing them on a bun with some cheese would be pretty unoriginal though (and probably pretty boring for you guys to read about) I wanted to come up with a new way to eat these mouthwatering new burgers.
After brainstorming for a while the idea for the Bacon Weave Brat Burger popped into my head. Why wrap a brat burger in a bacon weave instead of just using a regular burger? Honestly, I kind of just like the way "Bacon Weave Brat Burger" sounds and frankly, I've had bacon on a regular burger before, but I've never had it on a brat so I wanted to see what it would taste like.
I started off by taking a pound of thick cut bacon and creating a bacon weave similar to the one I used back in February when I made my mac and cheese pie with a bacon crust. After looking at the completed bacon weave I realized that using a pound of bacon to cover a single 1/3 pound brat patty might be a bit much, so I did the only logical thing to do; I grabbed a second brat patty and stacked it on top of the first one. Actually, the logical thing to do probably would have been to just not use so much bacon, but for some strange reason that thought never even crossed my mind. Weird…
I figured that the brat patties would cook faster than the bacon, so I pre-cooked my bacon weave in the oven for ten minutes before wrapping it around the two brat patties and securing it all together with a few toothpicks. After that I tossed it on the grill and hoped for the best. About twenty minutes, a small grease fire and a beer and a half later my Bacon Weave Brat Burger was cooked to perfection.
I wanted to stick with traditional brat toppings for the burger so after I took it off the grill I added a piece of Swiss cheese, some kraut and some chopped onions and placed it on a pretzel roll. If you've never had a pretzel roll before you're missing out. Seriously, they're delicious and since brats are often served right alongside soft pretzels there's really no better type of roll to use for this burger.
Overall my burger was delicious. It was definitely gigantic, so if you want to make one at home and don't want quite the monstrosity that I had I'd recommend just using a single Johnsonville brat patty and maybe only a third of a pound of bacon or so. As far as the pretzel bun goes though, that's a necessity so make sure you don't skimp and just buy some crappy hamburger bun!