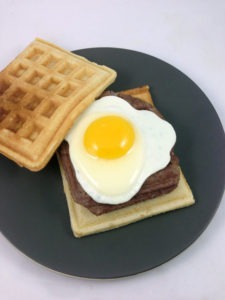 Back in November I wrote about BacoBurger — a company that packages and sells burgers that are made from a blend of ground bacon and meat. Now, if there's one thing I love more than burgers it's breakfast, so seeing as how I had a few burger patties left after my original blog post I decided to try making a breakfast BacoBurger.
Instead of a bun I opted to use two waffles. Since my waffle maker only makes square waffles though a regular round burger patty just wasn't going to cut it, so I decided to try cooking my BacoBurger patty right in my waffle iron as well. The burger didn't exactly turn into the perfect rectangular shape I was hoping for, but it was certainly close enough.
Another plus of cooking my BacoBurger patty right in my waffle iron was that the little pockets it created were perfect for drizzling a small amount of syrup onto my finished burger. As a final step I topped my breakfast BacoBurger with a sunny side up egg.
Overall my sandwich was pretty good. It sort of reminded me of the McGriddles that you can get at McDonald's, except for the fact that BacoBurger patties are 100 times better tasting than the sausage at McDonald's.