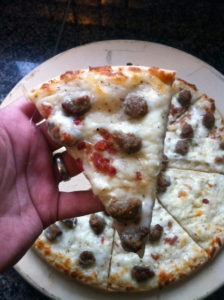 I'll have to admit that I was a little leery when I heard that Milwaukee's own Palermo's Pizza made a biscuits & gravy breakfast pizza. It's not that I was doubting them, because all of their other pizzas are completely delicious, but I just wasn't sure how well biscuits & gravy would translate as pizza toppings. My doubts were instantly erased when I tried my first slice.
There aren't any biscuits on the pizza per se, but instead the crust itself is almost biscuit-like. Covering the crust is the gravy, smoked bacon, pieces of breakfast sausage and mozzarella cheese.
The thing I love the most about breakfast however is eggs so I kinda of wish that Palermo's made a version of this pizza that had eggs on it as well. I guess that might be too much for some people, but I know that I'd eat it. They do make another breakfast pizza that has eggs, bacon, Italian sausage and cheddar cheese sauce though so maybe next time I'll just buy one of each.