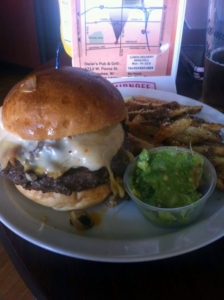 Writing a food blog I get tons of suggestions from people on new places to check out. I try to get to as many of them as possible, but after the fourth or fifth person told me about Oscar's Pub & Grill (not to be confused with Oscar's Frozen Custard which has some pretty good burgers of their own) I bumped it up to the top of my list and stopped in for lunch.
The menu at Oscar's is fairly small, which should have made ordering easy, but since everything sounded so good I still had a pretty tough time deciding what to get. I finally settled on the Big O Burger; a half pound Black Angus burger topped with chipotle jack and smoked Gouda cheese, bacon, chorizo sausage, fried onions and jalapeños and served with a side of guacamole.
If you're not a fan of greasy food you might want to shy away from this burger, because topping a burger with chorizo definitely ups the grease factor by quite a lot. I on the other hand love greasy food and completely devoured my burger, not to mention the delicious homemade fries that came with it. The only way the Big O Burger could have been any better was if they mixed some scrambled eggs in with the chorizo and threw those on top of it as well.