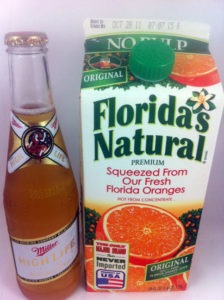 If you live in Milwaukee like I do the term "Beermosa" shouldn't be anything new to you. In fact, you can regularly find this drink on brunch menus all over the city. It's when I've talked to friends in other cities though that I've realized that most of them had never heard of this delicious beverage. Based on the name alone, this drink should be pretty self explanatory. Whereas a Mimosa consists of champagne and orange juice a Beermosa contains, as you can probably guess, beer and orange juice.
The ratio of beer to orange juice in a Beermosa isn't set in stone, and if you're making one for yourself you should definitely try out some different variations to see what you like best. I've seen a lot of people using half beer and half orange juice in theirs, but what I like to do is take a 16 ounce pint glass, fill it with a 12 ounce beer and then just fill the rest of the glass with orange juice.
The type of beer used in a Beermosa varies as well, although wheat beers like Blue Moon and Hoegaarden seem to be a pretty popular choices since they're normally served with an orange slice garnish as it is. Miller High Life is another beer I see used quite a bit in this drink since you know, it's the "champagne of beers" and all…
So now I ask you guys, are Beermosas popular where you live? Do you make your own? If so, what's your favorite beer to use in them and what's your preferred beer to orange juice ratio?