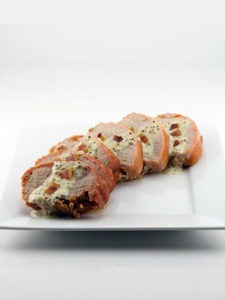 All year long I've been using Smithfield's numerous Marinated Fresh Pork products to create various recipes. I started off in March by making Teriyaki Pork Fries With Sriracha Mayo and followed those up with a Pork Sirloin Benedict in April, Teriyaki Pork Tenderloin Sliders With Pineapple Coleslaw in June, Garlic & Herb Pork Loin Filet Shish Kabobs in August and Teriyaki Pork Tenderloin Flatbreads in September.
For my final recipe of the year Smithfield asked me to use not only their Applewood Smoked Bacon Pork Loin Filet, but a package of their Hometown Original Bacon as well, which is totally cool with me, because if there's one thing that goes with bacon it's even more bacon!
I've mentioned this in my previous posts about Smithfield's pork products, but the best part about them is that since they're already seasoned all you have to do to get them ready to eat is to throw them in your oven or sauté them. They're also great on the grill as well, but seeing as how I live in Wisconsin and we're already getting snow that's pretty much out of the question for me at this point.
Even though the pork loin filet is ready in about 30 minutes the sauce is so simple that even after making it you should still have a good 20 minutes to spare. You can use this time to prepare a side dish to go along with your dinner or you can just hang out in the kitchen drinking a beer and setting your FanDuel lineups for the week on your iPhone while your wife thinks you're hard at work preparing dinner. I went with the second option….
To make this amazing meal just cook the pork loin filet and bacon according to the directions on the package and then for the sauce you just need to combine 3/4 cup heavy whipping cream and 1/2 cup Dijon mustard in a saucepan and whisk it over low heat for 5 minutes or so until it's heated. When your bacon is ready just dice a few slices, add it to your sauce and pour it over the sliced pork loin. It's that simple! So, now that your family will undoubtedly request this delicious dinner over and over again all that's left for you to do is to think of what you want to do with all the time you'll be saving by preparing it for them!