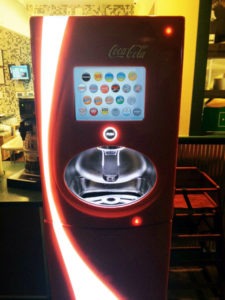 After opening 500 locations across 34 different states and parts of Mexico since 1994 Wingstop recently opened a location in Milwaukee and invited me in for a visit. Since I've never been one to pass up a free meal (especially one involving a pile of free chicken wings) I happily obliged.
One of the best things about Wingstop is that your chicken wings are always cooked to order so you won't find any heat lamps or microwaves in their kitchen. Each location also cuts their own fries every single day from real Idaho potatoes.
You'll find nine different flavors of wings at Wingstop (available in both regular and boneless varieties) and on my visit I sampled four of them – Garlic Parmesan, Lemon Pepper, Hawaiian and their Original Hot wings.
I only tried the boneless wings so I can't comment on the regular wings, but the ones I tried were definitely decent-sized and flavorful. Out of the four flavors I sampled the Garlic Parmesan and Hawaiian were probably my two favorites.
Since there are so many bars serving wings around Milwaukee, with all of those wings varying in both size and price, comparing them on anything but taste to Wingstop is a little tough, but taste-wise the wings from Wingstop definitely held their own. Are they the best wings that I've had in Milwaukee? Absolutely not, but they're also far from the worst.
If you're looking for a price and size comparison then comparing Wingstop to popular wing chain Buffalo Wild Wings is probably the safest bet. Size-wise the wings from both chains are pretty similar, but the wings at Wingstop are cheaper. As far as taste goes if I had to choose between the two I'd pick Wingstop in a second.
Another really cool thing about Wingstop is that they're the first place in Milwaukee with a Coca-Cola Freestyle machine, which is basically a giant fountain soda vending machine that offers 135 different Coca-Cola brand drink choices. Are you a fan of Diet Coke? They're got seven different varieties, as well as eight additional Coca-Cola Zero choices. Is Powerade your preferred drink? Between regular Powerade and Powerade Zero they've got 16 different flavors for you to choose from.
Feeling creative? Try using the Coca-Freestyle machine to come up with your own drink concoctions! According to my calculations, based on the 135 beverages offered you can actually make a total of 1,474,892 different drinks! Actually I just made that number up. I'm terrible at math. What I do know though is that my half Powerade Lime half Mello Yellow Cherry drink tasted pretty good. My Pibb Xtra Cherry Vanilla / Orange Coke / Minute Maid Strawberry Lemonade / Hi-C Grape mix on the other hand? Not so much… If only there were a "vodka" button on this machine I could really put my mixology skills to the test!