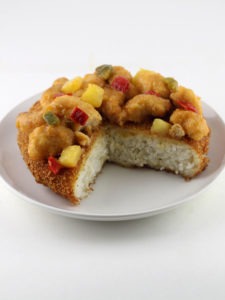 Late last week I received an email from the homies over at Foodbeast asking myself and a few other food bloggers / Instagramers / deranged individuals to "fundamentally re-imagine pizza."
Now, I'm always down for a challenge, but I have to admit that I was a little bummed at first that I'd recently made my Spaghetti Crust Pizza and Cheese Ball Crust Pizza because those would have been absolutely perfect for this. On the plus side though, brainstorming about ridiculous pizza ideas really got my creative juices flowing. After my first idea — Pizza Sushi — was a total failure I went back to the drawing board and came up with this, which is probably ten times better than that original idea anyway.
The first step with this pizza was to create the crust, which consists of white rice that I breaded in Japanese style panko breadcrumbs and deep fried. To shape it I packed the rice into an 9″ springform pan which I then put in my freezer. Once it was frozen I popped the ride disc out and covered it in flour, egg wash, sprinkled the breadcrumbs over it and dropped it in my 375º deep fryer for about five minutes.
Once my crust was ready I fried up some chicken, red and green peppers and pineapple pieces, tossed them in sweet and sour sauce and topped my crust with everything to complete my Sweet and Sour Chicken Pizza.
At this point you're probably thinking "OK, this looks awesome, but it's probably impossible to eat right?" Actually no, you'd be surprised how well the slices actually held together. If I made it again I'd probably make the crust a little thinner, but overall I was definitely pleased with how this turned out.
What's even better is that I thought of a couple more ideas for this contest that will probably turn into separate DudeFoods posts at some point soon. One I actually filmed a video for as sort of a backup plan in case this Sweet and Sour Chicken Pizza didn't work out and the second — a Pizzarito, which would basically be a burrito that uses a thin crust pizza as a tortilla — I passed on temporarily since it's already been done, although instead of just rolling up a pizza and calling it a day like Serious Eats did I pictured mine as a much more grandiose affair packed with ground beef, lettuce, sour cream, guacamole and anything else you'd normally find in a burrito.