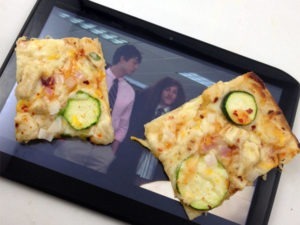 A couple weeks ago I mentioned how Verizon Wireless hooked me up with some money, a Motorola Droid Xyboard and six months of free, unlimited data access. All I have to do in exchange? Share my experiences when it comes to using the tablet. In case you missed the original post you can read it by clicking here.
Anyway, back when I wrote that first post I still hadn't used my tablet for much, but recently I discovered just how versatile it really is!
You see, I made myself a frozen Thai chicken pizza for dinner the other night, and after slicing it I realized that every single plate I owned was dirty. What was I supposed to do, just eat the pizza straight off of the circular cardboard disc that it came on like some kind of savage? No way!
That's when I noticed my Motorola Droid Xyboard sitting on the kitchen counter next to me! Suddenly I had no need for a plate at all, as the Xyboard was the perfect substitute!
Plus, thanks to Verizon's lightning fast 4G LTE service and the Netflix app that I installed I was even able to watch a streaming episode of Workaholics as I ate my dinner. Thanks Verizon!
Disclosure: I am participating in the Verizon Wireless Midwest Savvy Gourmets program and have been provided with a wireless device and six months of service in exchange for my honest opinions about the product.