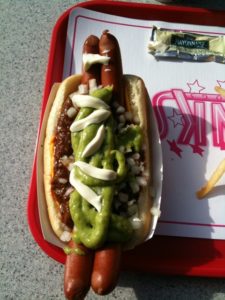 Pink's Hot Dogs has been a Hollywood staple since 1939. If you visit during lunch time or on a busy night you can expect to wait in a line that stretches down the block as people wait for their specialty dogs such as the "Three Dog Night" (three hot dogs wrapped in a giant tortilla, three slices of cheese, three slices of bacon, chili & onions), The "Martha Stewart Dog" (a 10″ long hot dog, relish, onions, bacon, chopped tomatoes, sauerkraut & sour cream), my personal favorite the "Ozzy Spicy Dog" (a spicy Polish dog, nacho cheese, American cheese, grilled onions, guacamole & chopped tomatoes) or maybe just one of their classic chili dogs.
I was planning a trip to Las Vegas in spring of 2007 and heard that Pink's was planning on opening a location in the Planet Hollywood Hotel & Casino, so I was exited to try it out since I hadn't been to the Hollywood location for a couple years. When I arrived in Vegas however I found out that Pink's wasn't open yet, but that it was "coming soon." A trip back to Vegas in 2008 yielded similar results, as did another tip there in the spring of 2009.
This year however I was in Las Vegas yet again, (no wonder why I never seem to have any money) and was delighted to see that Pink's had finally opened its doors in the fall of 2009. I love how casinos and hotels that cost hundreds of millions of dollars to build can be finished in a year and a half, yet a small hot dog place can take almost twice that.
On my second day in Vegas I made the trek over to Pink's and was happy to see that in addition to the classic menu from Pink's Hollywood location they had some Las Vegas themed specialty hot dogs as well. I decided to go with the "Today Show Dog," which featured two hot dogs in one bun, mustard, onions, chili, cheese & guacamole. As if that wasn't already unhealthy enough I also topped mine with some mayonnaise. Their hot dogs were just as good as I remembered, but I'm not sure if they were necessarily worth the three year wait. Either way though, I'm sure Pink's will make my list of places I stop at to eat each time I'm in Vegas.