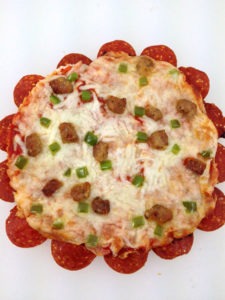 After a failed attempt at creating a pepperoni taco shell left me with an abundance of leftover pepperoni I decided to put it to good use by making a pizza crust out of it instead.
Have you ever baked pepperoni slices in your oven to create chips out of them? If you haven't you should definitely give it a try. Seriously, put some pepperoni on a baking sheet and throw in your oven for ten minutes at 425° and you'll be left with a bunch of crispy pepperoni chips that are perfect for dipping. Anyway, that's where this idea originated from.
My hope with the pepperoni taco shell was that I could place a circle of overlapping pepperoni pieces between two sheets of aluminum foil — which would theoretically help keep everything together — and then fold it into a taco shape and bake it in my oven. The idea was that when it was done baking and I unwrapped the aluminum foil that the pepperoni taco shell would stay intact. What really happened however was that it just fell apart.
Although the pepperoni taco shell — which would have been completely awesome — didn't work out, I did notice that the pepperoni that weren't bent into a taco shell type shape stuck together fairly well after baking, so I went back and created a second circle of overlapping pepperoni slices and this time just left it as a circle when I placed it in my oven for eight minutes. I then took it out and topped it with pizza sauce, shredded cheese, Italian sausage and green peppers and put it back in the oven for another ten minutes.
Even with a decent amount of pepperoni overlap in the crust, the pizza was still pretty flimsy when I picked it up to eat it, but the idea is definitely there, and I'm sure that with a couple more tries I could get it to work even better. Either way, if you somehow end up with a bunch of extra pepperoni that you have no idea what to do with — or maybe you're just searching for an alternative to a traditional pizza crust — this Pepperoni Crust Pizza might be just what you're looking for!