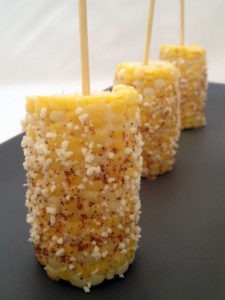 I've mentioned a couple times now how until the end of the year I'm part of the Verizon Wireless Savvy Gourmets program, and in turn I was given some money, a Motorola Droid Xyboard and six months of free, unlimited data service. In case you missed it you can read parts one and two here and here.
As part of the program a few other bloggers and myself were invited to a dinner down in Chicago where chef Efrain Cuevas of Clandestino Dining prepared an amazing meal for us. Clandestino specializes in "underground dinner parties" where you don't actually find out what, or even where, you're eating dinner until the day before.
For our meal we actually didn't know where we were headed until our shuttle bus dropped us off in front of a former convent that was converted into a makeshift kitchen and dining area for the night. I've included a few pictures from the dinner down below, so check them out. Oh, and if you ever have the chance to go to one of Clandestino's dinner parties I strongly suggest you jump at the opportunity.
In the span of a few hours we enjoyed course after course of food — each one paired with a different beer from Two Brothers Brewing Company. Out of everything we were served that night however — grilled shrimp, steak tacos, roasted Cornish hen and a whole lot more — my favorite dish was the simplest of them all.
Elote, which is often referred to as "Mexican corn on the cob," is sweet corn that's either roasted or boiled and then rolled in mayonnaise before being sprinkled with Cotija cheese and chili powder.
It's sort of nuts, up until that night in Chicago I'd never even considered adding anything but butter to my corn on the cob, but this seriously takes it to a whole new level. In fact, I've pretty much been eating elote weekly since then. There have even been a couple meals where it's the only thing at all that I've eaten.
Are there any other crazy corn on the cob recipes out there that I'm not aware of? If you know of any leave a comment below!
| | |
| --- | --- |
| | Disclosure: I am participating in the Verizon Wireless Midwest Savvy Gourmets program and have been provided with a wireless device and six months of service in exchange for my honest opinions about the product. |